Zalebs was afforded the privilege of holding an exclusive interview with 5fm DJ, Sureshnie Rider. The discussion revolved around her involvement in the Drive Dry Campaign, as well as finding out about how she's taken to motherhood. 

You've set the example of pledging to drive sober, how many members of you family have you influenced to do the same?
First of all I've never drank in my life, I'm more of a tea-drinker.  So many people would ask me why would I join a campaign when I don't even drink alcohol but at the end of the day I am a mother and as the DJ I'm on the road and every night I have the responsibility to return to my family after every single gig.  So I don't want to be the victim of someone who has been irresponsible with their drinking, and that is why I decided to take the pledge.  I've asked every single member of my family to go out there and make that pledge, actually my husband was the first to make the pledge as a couple of years ago he was involved in a car accident caused by someone who was drunk.
If the target of 3000 pledges is reached by the 1st of July, apart from the R60 000 that is planned to be donated to SADD, what else does the Drive Dry Campaign hope to achieve?
More than anything we'd like to ensure that the sense of awareness is instilled in people's minds not only in the months of June and July but right up to the end of the year.  It really is about looking at the bigger picture, just like how we have awareness to try and curb the spread of H.I.V Aids.  Our aim is to set a new mind set where, people reach the point where they realise that they don't need to drink and drive, and they can always grab a cab or ask for someone who doesn't drink to drive for them.  The Drive Dry Campaign is all about looking at the long term goal of ensuring that the majority of South Africans either drive sober or at least request for a cab to take them home when under the influence.  It's not just about getting a certain number of pledges on Facebook its bigger than that, campaigns like this are not short-lived their meant to have longevity and be constantly instilled in people's minds.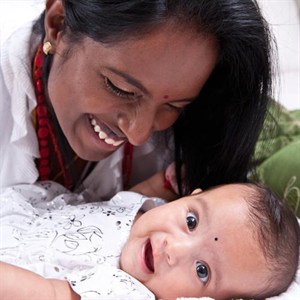 How has mother-hood been treating you since you've given birth?
Oh my word, I've never had such good senses at smelling dirty diapers, I can smell a dirty diaper a mile away [laughs] but being a mother has made me so calm and centred.  I use to be a busy body, energetic individual but my daughter has definitely taught me how to be calmer.   She also makes me want to work harder because everything I do now is for her is for her future, every gig that I do and show I try to think if that will make her proud of me in 10 years' time if she happens to Google me will she be proud of what she reads about me.  So I definitely think mother-hood has taught to be selfless and always consider that every decision I make is for my child.
Sureshnie is also working on another campaign that is taking off in the next couple of months; it's known as The Blow the Whistle Campaign that she's excited to launch soon so do watch the space.