Summiting a mountain is no small feat. I mean, it doesn't even sound easy
But these female Zalebs were determined to scale to new heights - literally!
As part of the Trek4Mandela challenge, many South Africans - including celebrities - make the journey up
Mt Kilimanjaro
for charity Caring4Girls, which raises funds to purchase sanitary towels for underprivileged girls.
Here are 5 female stars who can proudly claim they conquered a mountain!
Thuli Madonsela
The former Pubic Protector announced on social media this week that she had summited Africa's highest mountain.
It wasn't an easy journey as Thuli revealed she experienced a dip in her glucose levels along the way and even began hallucinating!
But Thuli was not about to quit and pushed on to the top.
Lynn Forbes
Glammy
climbed Kili to mark her 50th birthday in 2017 (And what a stunning and strong 50-something she is!)
Mama Forbes - whose son is rapper
AKA
- claimed that summiting Kilimanjaro was a childhood dream of hers and even dedicated the trip to granddaughter Kairo.
She said in a guest blog 'Climbing Kili for Kairo' on DJ Zinhle's MOMents blog; "I will climb Kilimanjaro, not for anyone but myself, because I want to teach you to have big dreams, set goals and see them through".
Letshego Zulu
A year after her husband
Gugu'
s tragic death on the slopes of Kili,
Letshego
made the brave decision to finish what he started by completing the trek in his honour.
Of her emotional trip she said; "Today I stand victorious. I went back to Mount Kilimanjaro to fulfill a promise to my late husband — to summit that magnificent mountain in the name of keeping the girl child in school. This cause was very dear to my late husband and is very dear to me."
A full circle moment indeed!
Leanne Manas
"It's the hardest thing I've ever done in my entire life....I didn't think I was going to make it," she said of the arduous trip.
But just like the rest of these women, Leanne pushed through the pain and ecstatically reached the top.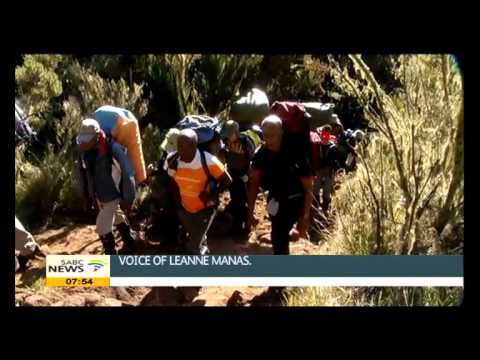 Gerry Elsdon
The TV personality hasn't just climbed Kili, she's planning to conquer Mt Everest too!
The seasoned climber - who summited Kili several times - claimed it is her life goal to complete the seven summits - which are the highest mountains of each of the seven continents