Many people dream of being able to go behind the scenes of their favourite television show. ZAlebs got that exact opportunity last week on the set of Generations: The Legacy.
One lucky reader, Emma Dikeledi, joined the ZAlebs team on the journey, as we got to see what not many others get to see - the raw state of Generations: The Legacy.
ZAlebs news presenter Andrew Hallett was there to check out the happenings, and he has put together five observations from the experience.
See what he thought below...
Connie Ferguson and Letoya Makhene are darlings!
This was the first time I have ever met both Connie and Letoya in person - and they are such sweethearts. They both warmly greeted our competition winner, Emma, and had long chats with her. They were both gracious when asked for an interview, and gladly posed for photos with Emma. They are just lovely people.
Don't you dare wear your shoes!
Okay, that may sound a bit stricter than it is, but the stars of the soapie all wear slippers when walking around. They then slip on the fancy shoes designated to them when on set or ready to be photographed. The shoes never touch the concrete floor! Do they keep the tags on so they can take them back, too?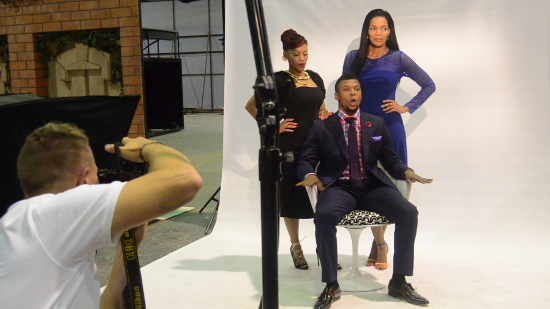 The sets are so detailed
When you see the sets on television, they look so realistic, so when you see them in person, it is crazy to think the amount of work that goes into creating them. They are so detailed and are all stored in a warehouse when not being used. I feel for the guy that has to find a specific set in the warehouse, though - it is crazy packed in there!
Vuyo Dabula is a big softy
Yes, he may play a hectic character on television, but Vuyo is actually a big softy. He was so accommodating when we met up with him for an interview, while he was so sweet to Emma. If you ever think Vuyo is like Gadaffi in real life, think again. What a great guy!
They serve great biltong
Yip, the biltong they served was top class. Please can you tell us which butchery you got it from?
Check out the full video of our ZAlebs winner rubbing shoulders with the cast of Generetions: The Legacy right here: