Last night South Africa bid farewell to another SA Idols contestant, 19 year old Benjamin Tainton.  The apprentice farrier received the lowest number of votes after his rather mild performance of Coldplay's "The Scientist".  After it was revealed that Benjamin would be in the bottom two, the judges decided not to save Benjamin.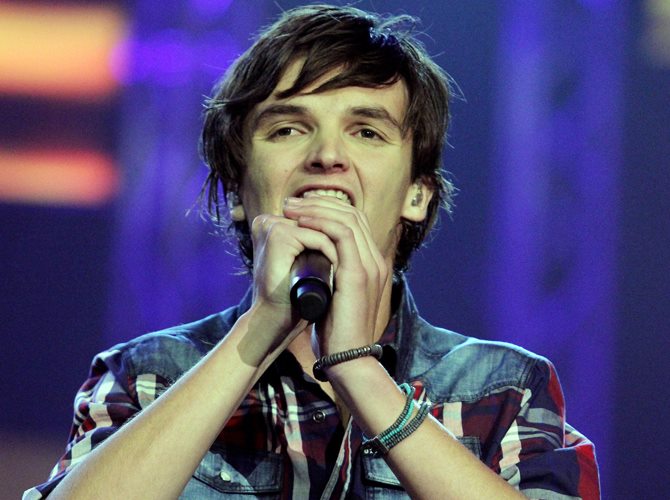 ZAlebs spoke to the 19 year old apprentice farrier to hear his views about his experience on SA Idols.
Before we start asking you about Idols, in your bio you mention that you've never owned a cell phone before and only started using one because of the competition.  How on earth do you survive without a cell phone?
You'd be surprised hey, if you come visit me in Cape Town you'll realise that I'm quite an outdoor type of person.  I'm always with the horses or I'm on the beach playing music.  I've never really enjoyed cell phones and people have been giving me grief about not using a cell phone because they feel that I've lost them or left them in a box with no sense of communication but yes that is true I've only started using a cell phone now.  My first one is this Samsung one which is actually a pretty good phone I just hope I don't lose it.
Back to Idols, did you actually think you'd make it this far in the competition, considering the amount of great talent this year?
Well I've been involved in a lot of competitions whether it be horse riding or sports competitions.  So I've always just gone with the flow when it comes to competitions. My main thing is to not be competitive but to learn as much as I can from not only the experience but from everyone around me within that particular competition. It's never about being extremely competitive it's all about development for me however I did tell myself that I want to make it to the top 10 that's all I said to myself and from then on everything else is a bonus.
In the past couple of weeks your performances have received some rather stony comments from the judges.  How did those comments affect your upcoming performances? 
For me those comments were fine. You can't look at the judges and take things personally because if you do, chances of you surviving in this industry are slim.  It's a TV show, it's all for entertainment and you constantly need to keep that in mind.  You always need to rise up to the occasion no matter how difficult it is to hear some of the comments directed to you by the judges.  I think the comments from the judges were cool, Unathi and Gareth were cool and Randall was good to me during my Bryan Adams performance so yeah I took everything with a pinch of salt.
As a Capetonian you really do come across as a laid back individual who isn't really into this whole Pop culture frenzy. Are you actually relieved that you don't have to go through this anymore?
I'm actually just excited to embark on my own adventure showacasing my own type of music but I've absorbed a lot from this competition, especially from each contestant.  So from now on I'm not going to just focus on my folk music, I've become more interested in blending other types of genres in my music.  Everything happens for a reason, it was my time to go and I've just thoroughly enjoyed every moment I was on SA Idols.
Are you planning on starting a band or starting your own indie music project?
I think a band is a better idea.  I did have a small band before entering this competition with two other guys and we always jammed with each other, so a band is definitely what I'd consider doing after being on SA Idols.
Who do you think will make it to the top 2 SA Idols finale?  
At this stage it is an open and very tough competition I can't really pin-point who will make it but I am supporting my dear friend Innocent. I think he deserves it.