Known for her unique presentation skills on television and radio, her hardworking and enduring spirit, as well as her international trips,
Bonang Matheba
, aka Queen B is one of those celebrities who have established themselves in the industry and are reaping from their sweat and hard work.
A few years ago, Bonang acquired a new home and gave us a sneak peek into the new place. Here is a quick look at Bonang Matheba's house in South Africa where she lives when in the country.
Details about Bonang Matheba's house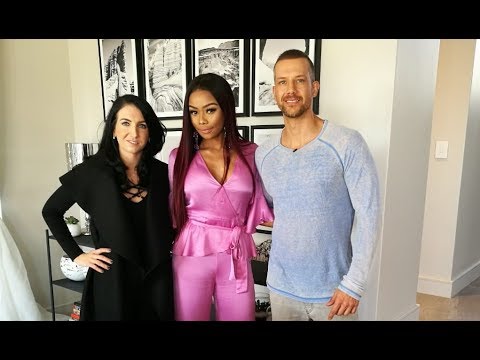 In 2018,
Top Billing
did a tour of Bonang Matheba's house and shared a beautiful video of the lovely home that both blew our minds and inspired our design point of view.
Bonang Matheba's house is located in the beautiful and serene Waterfall Country Estate in Midrand, near the Mall of Africa.
The exquisite 3-bedroom house that sits on a fairly spacious compound was designed by Joanne Reynolds who put the concept of exposed timber, steel, a staircase, and concrete walls to life, giving Queen B's palace a warm and natural aesthetic feel. The interior design of Bonang's house was actualized by interior designer Jessica Hofmeyr.
It reportedly has some executive features including a swimming pool, a patio and a garden among other things.
The interior design of Bonang Matheba's house blends with her personal style and design which can be described as luxurious, fresh and elegant.
Sticking to a simple colour palette of white and a range of soft greys and dark blue in the spacious living room, the walls are painted crisp white while the carpet and furniture are dark with throw pillows that play around with prints of grey and white.
An array of photographs break the monotony of the white walls. The photos are placed strategically to tell a story. The photos that line the staircase for example are arranged in an ascending order starting with photos of her when she started out in the industry as a teenager to her more current photos.
The house has plenty of glass windows that let in plenty of light to naturally light the rooms and it also has large glass windows that lead outside to a beautiful patio and a swimming pool.
Like the indoor furniture, Bonang's outdoor patio furniture also sticks to the black and white theme and plays around with the prints and patterns.
What is the value of Bonang Matheba's house?
Bonang Matheba's house was valued at about R6 million in 2020 which is a small fraction of her estimated net worth.
Bonang Matheba is able to afford her house and other luxurious things that life has to offer including sleek cars and high-end fashion from her successful work in the entertainment industry, her endorsement deals, as well as the profits she makes from her businesses.
Where does Bonang Matheba live?
Although she owns a beautiful home that many would wish to live in, Bonang Matheba currently lives away from her South African home.
The successful media personality
moved to New York, USA
a few years ago and has been living there ever since, only coming to South Africa to visit.