The name Bonnie Rotten conjures up some crazy thoughts when people hear the name for the first time. The reality, though, couldn't be further from the myths. This alternative, horror-loving, tattooed beauty is setting the world ablaze, with the latest leg of her world tour seeing her visit sunny South Africa.
We caught up with the adult film star at the 2014 SEXPO at Gallagher Estate, chatting to her about her experiences, and quickly discovering that this petite babe isn't that rotten after all!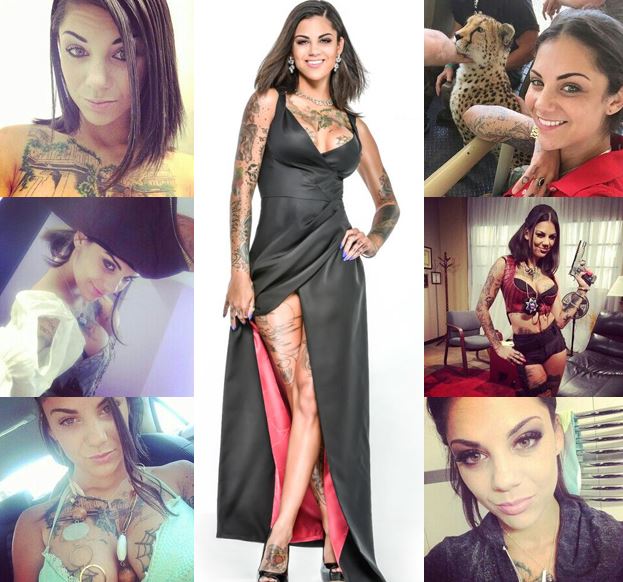 Oozing beauty and poise, Bonnie Rotten is a reminder of classic cinema beauties, with her presence enough to inspire works of art from just about any individual. Full of energy, zest and ambition; this 21-year-old is extremely goal orientated, and is beyond driven in her journey to success, as she rises to the top of an industry which can be as unforgiving as the sea.
Hi Bonnie, thanks for taking the time to do this interview
Bonnie: Of course! No problem!
So, how are you enjoying South Africa so far?
It's been a lot of fun! I've only been here for two days but we've already been on safari, and have been to some bars and restaurants and had some really good food - so, it's been really cool!
We saw your photos on Twitter, so we take it you visited Joburg's Lion Park, right?
Yes! It was so cute - they let a cheetah on the bus, and we got to pet it while it crawled around and over the seats!
Was this your first encounter with African cats?
Well, I've seen them at the zoo - but yeah, definitely, it's a first.
What were your original impressions of South Africa before visiting?
I had no idea it was going to be so... city like, I had no idea what to expect. I have been travelling a lot out of my home country so I have been pleasantly surprised by the countries I have been visiting.
What's your take on South African people?
Everyone here is very cool, very helpful, very polite, and very respectful.
During your career, you have met a lot of guys, and been intimate with many guys - in your opinion: what are guys not doing nowadays when they approach women? Is chivalry really dead?
I think chivalry is dead, I read a really interesting article in relation to this. You know how women are constantly saying that they want men to talk to them and tell them their feelings blah, blah, blah? Well, men have begun to do just that over the past few decades and it's kinda pushed women away from men, because men have always been the strong, silent type, it's just this really weird psychological thing!
Looking at Bonnie's Frank Sinatra tattoo, there's no doubting that she likes her man to be dapper, strong and old-school handsome!
What do you feel women are lacking in this day and age, when it comes to relationships?
Because sex is now such an open thing, and people are having sex so often, I think the connection is lost. I think a lot of people depend on sex and you know... That night out, instead of the next day and waking up and spending their day with someone. There is no emotion, it's so much more physical now than spiritual. But... That's just my opinion!
How long will you be in our beautiful country for?
I leave on the 29th, and I'm off to Barcelona as part of my world tour, where I'm at another expo. The world tour comprises of mostly expos and shoots. It's crazy: from here I go to Spain for four days for Salon Erotica, then I fly straight to Hannover for Erofame, then to Berlin for the Venus Fair. I then fly back to Spain, I'll be shooting this really beautiful European gonzo movie. Plus I'm also going to Hungary to shoot with Rocco Siffredi!
You have a lot of energy! Do you work out often?
No! I took this energy thing; it's one of those goo packets, it was disgusting! I almost vomited!
Crazy indeed! Being so young and just exploding onto the scene, How have you coped with the fame, chaos and dealing with this incredibly tight schedule?
Honestly, it's so tight, you don't really think about it. You kind of just go through the motions. I try not to think about how long my flights are going to be or how long the days are going to be, I just think about how much fun I'm going to have when I get there. That's my motivation, and what gets me out of bed every morning!
In the time spent with Bonnie Rotten, she's clearly an awesome, and a career driven woman focused on having fun while working hard towards being the best at what she does. Humble, and with a relentless work ethic that can rival even the hardest of labouring individuals, there's no stopping this rising star, who's set to explode into a supernova.
Article by Shaylin Naidoo
​