Dave Matthew's Band is a band that holds a special place in the hearts of a lot of South Africans. It is fair to suggest that it has as much to do with the band's South African roots/links as it does with their collective quality as musicians. We sent our reporter, Johan Van Rooyen, to the band's Johannesburg concert last night and he's back with feedback on what was, by many accounts, and incredible night out. 
Let me begin by introducing you to my girlfriend. She is a normal kind of person, a teacher, music fan, likes her songs two minutes and thirty seconds long and blasting from the radio speakers in her car. She did not come with me to see Dave Matthews Band live. The prospect of extended ten minute sax solos, intelligently crafted songs that move exactly to where you don't expect them, and special visits from South African jazz giants like Hugh Masekela did not excite her. But good God, I could not contain myself.
Like a child on Christmas morning I walked into the Dome and experienced that feeling of "this place is much bigger than I remember" that I get every time I walk into the Dome. We bought our beers (quite a lot of them, naturally), found our seats and settled in for the show that I felt more and more certain with each passing second would blow my mind substantially.
Vusi Mahlasela got the crowd going with his infectious rhythms and much loved danceables. His stage personality lends a humbleness and honesty to his music, which added poignancy and subtlety and confirmed why he has occupied such a lofty spot in the South African music scene for countless years. By the time he brought his set to a close, his quirky dance moves, catchphrase (Thank you very please!) and ridiculously upbeat songs had the crowd warmed up and ready to experience the Dave Matthews Band in all their glory. He left the stage to cheers and whoops, and a tangible sense of excitement drifted through the crowd like mist (there may have also been some doob smoke in there now that I think about it).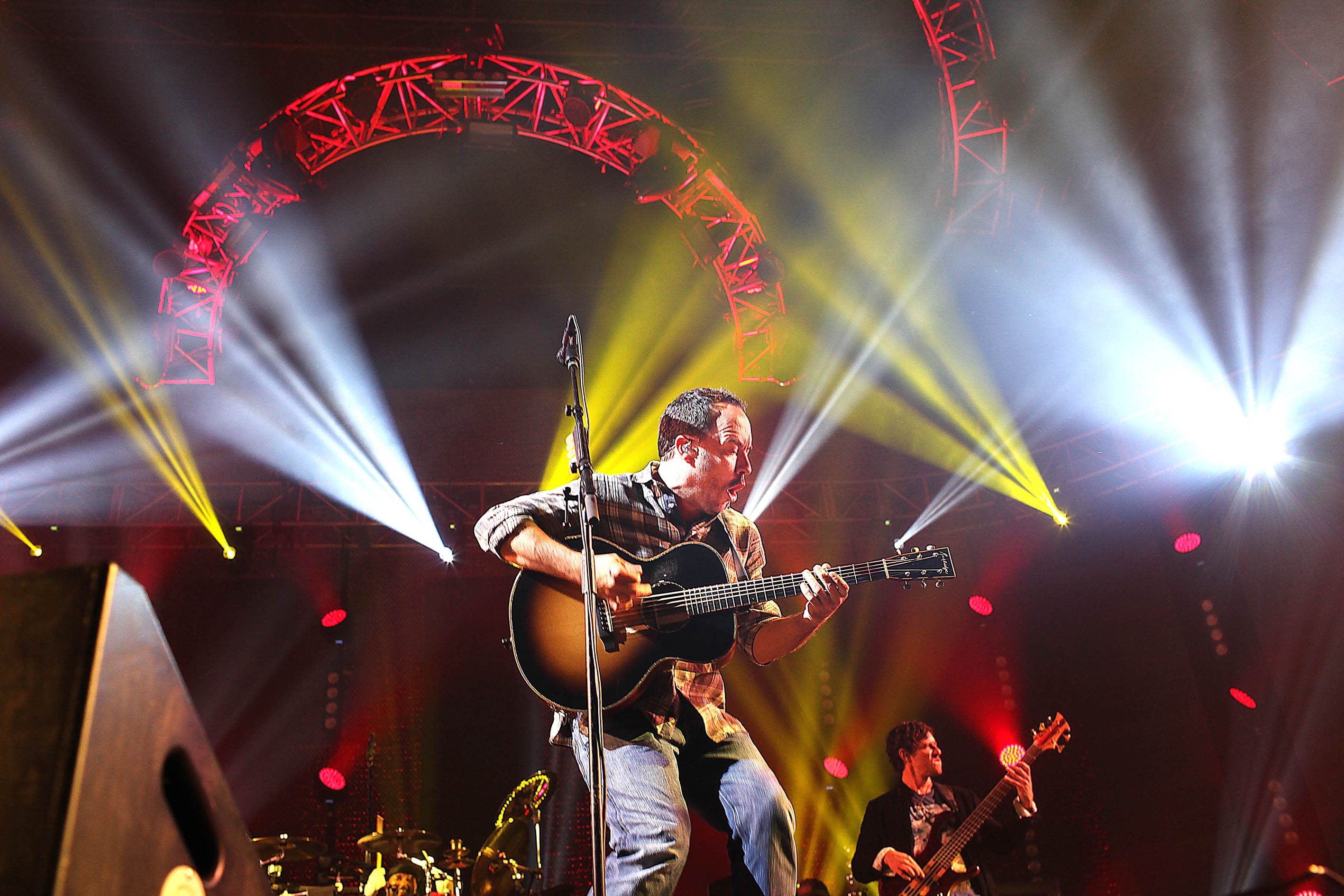 Dave Matthews hit the stage hard. For the three hours that followed, my memories were vague and uncertain. The set gelled together well and the sound of each song contributed neatly to the overall effect of the performance, building in a huge crescendo towards a massive cover of All Along The Watchtower which had the crowd whipped into a frenzy. The musicians were playing their instruments hard, throwing down mind-bending solos and constant high energy performance, leaving both musicians and crowd in a stupor.
This is not to say, however, that the evening was without its more sensitive moments. Dave Matthews' rendition of Crush (a personal favourite) was heartfelt and honest, and didn't fail to raise the occasional Goosebump. While the band sensitively and carefully backed him up, adding that special DMB-ness, but without overriding the sentiment of the song with excessive sound. They then carefully built it up more and more culminating in extended solos from most of the ensemble. This gave a musical voice to the emotions of the lyrics and injected layer upon layer of musical significance.
Another stand out was their cover of Sugar Man by Rodriguez. Like Crush, the song was rendered beautifully, and supported by understated, yet ingeniously crafted music. The choice of Sugar Man shows Dave Matthews' sensitivity to the location; by playing a song that resonated with so many young South Africans in the 70s he connected himself with that spirit of carefree yet subtle angst of Rodriguez. He was able to evoke to nostalgia of Rodriguez, and the importance that the song has to South African, but add his own unique touch to it, elevating the song to another level.
Ultimately, the show was great, and I am very glad that I went. I went out in search of the DMB experience, and I was not disappointed, and the snowball of fans that began in 1991 can count itself one person heavier as it continues to roll down that hill.