DJ Maphorisa is proving that he's a big deal.
The Uhuru band member is putting South Africa on the map, one song at a time.
While the world is excited about Drake dropping two tracks - one titled Pop Style, featuring Kanye West and Jay Z, and another one called One Dance, which features Wizkid and Kyla - Mzansi is celebrating the fact that Maphorisa got a mention in one of the songs.
Watch: Chris Brown and Wizkid rock Durban 
The South African DJ co-produced One Dance and the nation couldn't be prouder.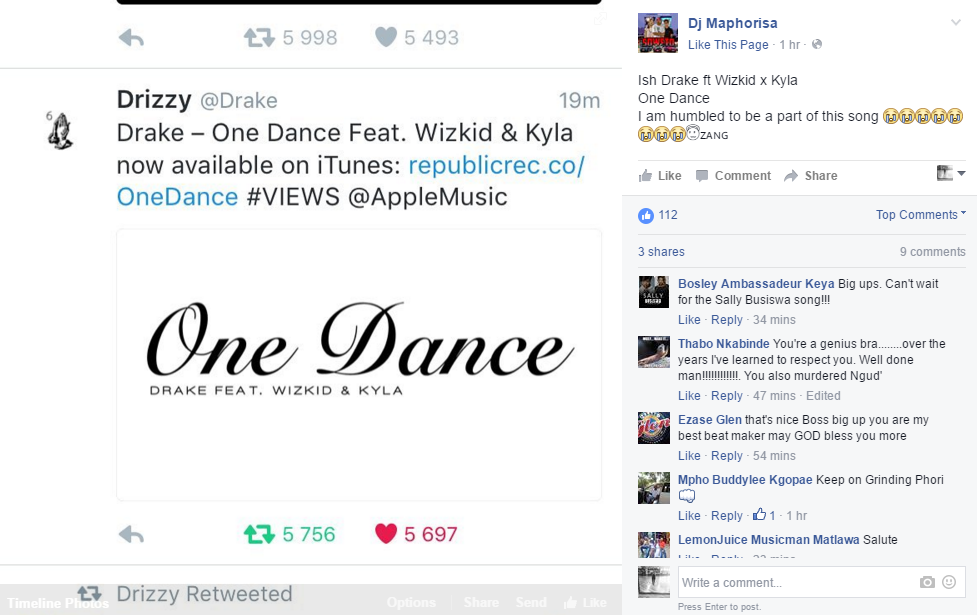 ​
The DJ has received a lot of congratulatory messages from proud fans and other SA musicians. 
Well done, Maphorisa. Mzansi is very proud of you. 
Meanwhile, some people are having a difficult time giving props to Wizkid for being featured in the song, because they cannot hear his part. 
Wizkid's part sounded like it was sent via what's app.

— Mitch Rodriguez (@KingMitel) April 5, 2016
How can they use wizkid to do background mumbling... One of our biggest artist oh!! They didn't even give the mumbling volume

— Zacky Mbadiwe (@ZackJonas) April 5, 2016
Wizkid : You are on the song , You are ON the song , see your name is there ! pic.twitter.com/nsDMVuiuxa

— TW (@TobiWilliams) April 5, 2016
I don't hear wizkid

— TWENTY88 (@willingtoeatyam) April 5, 2016
Wizkid speaking to himself right now ..

Am I truly in that song ?

I am in that song, Drake wrote my name pic.twitter.com/NEN5bxyUhI

— Tek' Noris⚡ (@iam_NORIS) April 5, 2016
😂 come on! He was the background voice RT @Femi_17: Nawa. Looking for Wizkid's Voice on a track like it's searching for a needle in a hayst

— Oginji (@Ahman__) April 5, 2016
Whether you hear him or not, he's still in the song. JJ Omojuwa, a Nigerian blogger, summed it up nicely: 
I see subs directed at WizKid's cameo appearance in the Drake song. It just shows how no matter how far you go, there is no pleasing humans.

— JJ. Omojuwa (@Omojuwa) April 5, 2016
Note that this wasn't WizKid featuring Drake, this is the reverse. Drake had an idea and he called WizKid to execute it. Wiz should be proud

— JJ. Omojuwa (@Omojuwa) April 5, 2016
Bye, haters!
Image credit: Instagram