East Coast Radio DJ, Deon Govender, has been named Durban's Best DJ for 2013. Music lovers across the province took to social media recently to vote for who they thought was their favourite choice for club or radio DJ. The "I love Durban" Facebook page then started narrowing down the list to the top four as voted for by thousands of people on Facebook and Twitter. Deon says he didn't expect to win as he was up against DJ Black Coffee, DJ Tira and DJ Sox, who are well known countrywide.
"I was over the moon, no one was forced to vote but the fact that people chose me over such big names was overwhelming. I can't believe it actually was me, I mean Black Coffee is huge with a massive following, so to go against that and the public choosing me was a great feeling. It's an honour to be loved for what you do and to be recognized," he says.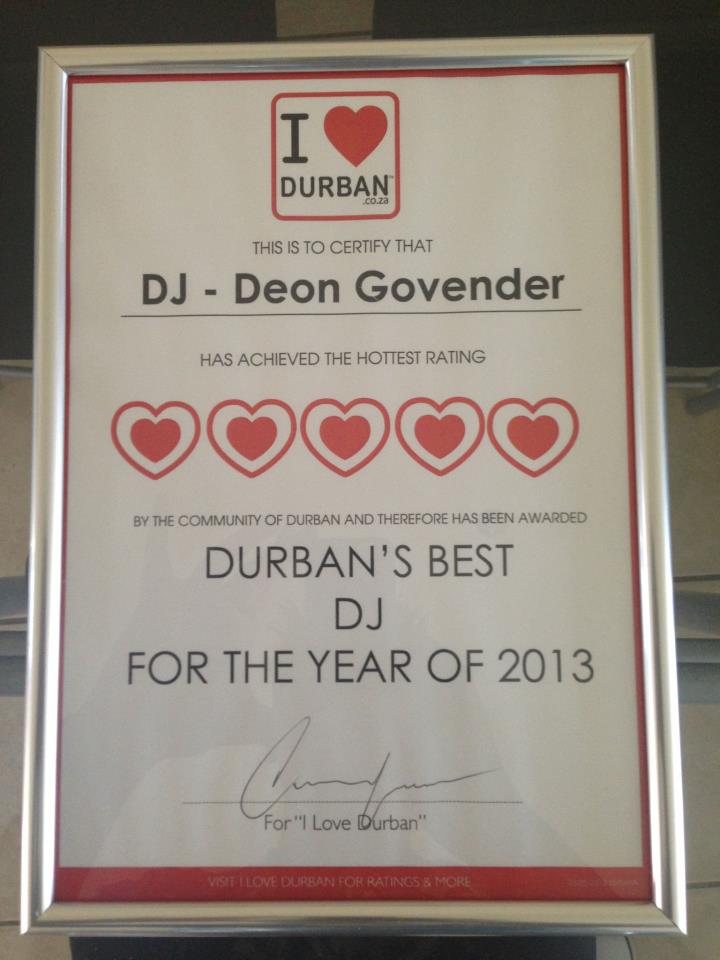 The award is one of many highlights in Deon's career. He has emceed at concerts with big performers such as Jay Sean, Fatman Scoop, Pitbull, T-Pain and Busta Rhymes to name a few. He's also interviewed celebrities such as Chris Brown, Akon and Lifehouse. 
Deon started his career in radio at the age of 15 when he got his first break on Durban Youth Radio. He then moved to Mr Price's Red Cap Radio before moving to East Coast Radio.  Deon says he'd initially considered a career in the sciences but soon realised his passion lay elsewhere.
"I did medicine then after changing into radio, I ventured into the club turf as well, now it's my passion and love it," he says.
Deon has a huge Facebook following with more than 37 000 fans. He's also popular on Twitter with a following of more than 12 000 people.
What's Deon's advice for all the DJ wannabes out here? "Some things are heaven sent, if you have the skill, take it to the next level and don't let negativity get you down, let it be your motivation." 
You can catch him on the weekend from 9pm to midnight. He's Facebook fan page is www.facebook.com/djdeong and his twitter handle is @djdeong. Deon also also have an online car show called Vroom, reviewing cool cars.
Tamlyn Canham