A pink atmosphere settled upon Johannesburg last night as the 2014 Chevy Feather Awards returned for yet another gay (both meanings of the word!) celebration of everything fabulous and not forgetting stylish!
Though ZAlebs was not in attendance it's always exciting to witness how every year the award becomes more of a success than its previous year. With YOTVLive presenter and actor - Lumko Johnson hosting the pink carpet it was sure going to be one entertaining night for all guests in attendance.
Speaking about guests, we were surprised to find out that Minister of Sport and Recreation Mr Fikile Mbalula was in attendance too. But then again, out of all the ministers in the cabinet, he is undoubtedly the coolest. You could tell he was the minister of the night and year with the amount of selfies he took with people.

Big winners on the night included the likes of Amanda Du Pont who walked away with a Feather Award for Hot Chick of the Year. Du Pont edged a sizzling category, beating off the likes of Jessica Nkosi and Nandi Mngoma.
Deservingly so, Mafikizolo member Nhlanhla Nciza walked away with Best Style Female of the Year award alongside Maps Maponyane who took the Best Style Male of the Year award.
And like always an awards ceremony isn't a complete these days without a celebrity selfie. This celebrity selfie was quite fitting seeing that it was taken by the biggest gay ambassador in Joburg - Mika Stefano.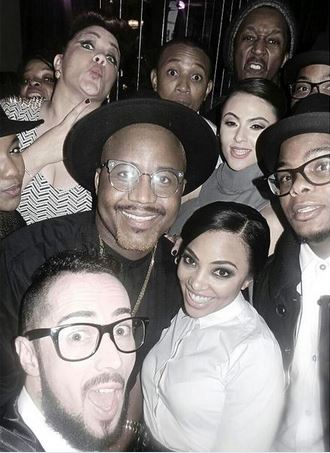 Heads turned when pop-singer Kelly Khumalo made an appearance alongside renowned creative thinker and visionary - Dion Chang to present an award. The public took to their social media platforms to voice their opinions on Kelly's public appearance just two weeks after the death of her boyfriend, Pirates goalkeeper and Bafana Bafana captain - Senzo Meyiwa who was shot dead in her home in Vosloorus.
Some were shocked that Kelly wasn't mourning the death of her boyfriend and judged her immensely, while others such as the likes of DJ Zinhle cautioned people to not expect others to live up to their expectations.