Usually, when an artist dies, their fans, fellow musicians and even their critics reminisce about the artist's works and the hits they conjured up throughout the years. When it comes to late rappers, their most potent rhymes are echoed even more throughout the hip hop fraternity as fans of the genre highlights the many verses that made that particular rapper stand out from the rest.
Just think about it, how many 2pac rap verses have you heard being regurgitated by fellow rappers? Never mind that even, how many times have you heard Jay-Z use a Biggie line? Quite frankly I've lost count, but the point I'm trying to put across is that a rapper's rhymes and even his ad libs are his most important possessions as an artist. It's not about the flashy cars and jewellery, they are his signature which grants him the stamp of approval by the masses as a cunning word-smith who is able to skillfully play with words.
Murdered rapper Nkuli "Flabba" Habedi was one of those rappers. Many remember him for his witty wordplay. He our gold-toothed scar-faced rapper from Skwatta Kamp, kind of like our own Dirty Bastard, minus the over the top craziness. 
As soon as you heard Flabba's  famous tagline "Errr Ke Flabba" before a verse, you knew his lyrics were either going to make you laugh because of his ridiculous yet funny comparisons or will have you yelling out "Yooh" because of that one punchline he through your way.
Also see: celebrities reaction to Flabba's death.
Our fondest line from the late rapper  rom Alexandra was his 2010 feature on Miza's summer hit song "Super Hero".
"Super cool, super fly, wena kaofela ba super Flabba, wena dude opopayi le ba

nyana bao folatella"
We asked a few of our Facebook readers what their favourite line from Flabba's verses were and boy you guys sure showed us a lot of.
Thumbathi Innocent reminded us of this hilarious line from Flabba
"I want a chick with a cute tattoo, never ngijole u-cherrie oshaya nge nqondo ye Pentium 2. Njalo mangim'bona, Flabba ngicela i-panty lami tu!" - #RIPFlabba
Mzwandile Sabelo Kubheka also had us nodding in excitement as he reminded us of this thoughtfully put out line by Flabba:
"I'm not Sowetan, but I'm a Citizen, either way I'm a Star so I'ma get this paper" - #RIPFlabba
There were a few who also loved the "Err ke Flabba" one liner.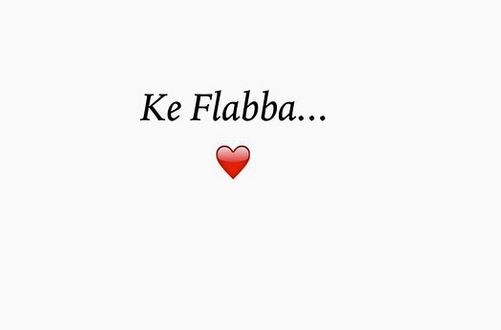 Kgotlello Kekae had us screaming "Ow" with this simple one liner by Nkuli;
"I grab a bull by its horn, stakeholder" - #RIPFlabba
Bantu Gadaffi Khoser reminded us one last time why the Do like I do remix was such a hit…because it had Flabba on a verse of course:
"Like porn flicks on Data I do 6 gigs in 1 night…" - #RIPFlabba
We could go on and on with these Flabba punchlines and looking at the reaction we saw on Facebook one can tell that Flabba was one respected rapper of our generation. Rest in Peace Flabba, also did you know that Flabba passed on the same day as the Notorious B.I.G if this isn't pure Hip Hop poetry then I don't know what it is.