The Polokwane leg of the Flying Fish Beach Volleyball Series served us with some great action and new champions. We went to add some flavoursome celebrities at their Mall of the North opening game last Friday. 
MTV VJ Nomuzi Mabena, hunky Vuzu presenters Shelton Forbez and Cyprian Ndlovu and cool kid Disk Jockey – DJ Doowap were amongst the well-known personalities who added to the flavoursome fun fair.  
We saw a lot of sports fanatics that made their way to add some flavour and experience Beach Volleyball series in the Mall of the North. I must say the culture of a people who were very interested in the volleyball challenge is quite big. We also saw a celebrity match between Team Lemon (Nomuzi Mabena and Cyprian Ndlovu) against Team Crushed Orange (Shelton Forbez and DJ Doowap). Team lemon won the challenge and they were rewarded with a Flying Fish trophy.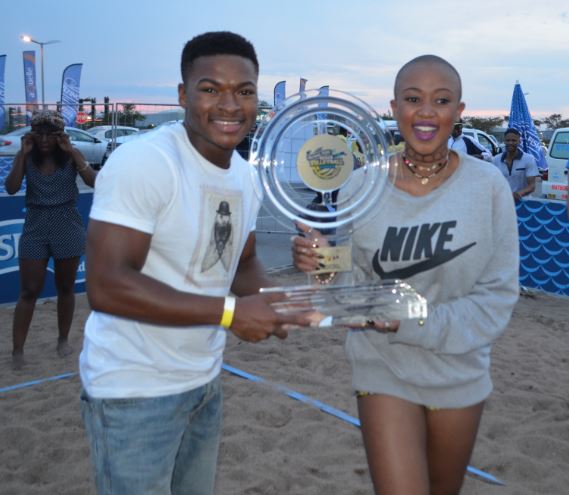 "I have been following the Beach Volleyball series since it started in Durban and was very happy that finally Polokwane hosted a celebrity match, which my team won. So I can now add Flying Fish Beach Volleyball Champion to my tittles, such fun," said Nomuzi Mabena who successfully conquered the celebrity match.
The Flying Fish Beach Volleyball Series was well-attended with over 120 local and international players participating from across the country. The series will culminate in a national final in Cape Town in 2015 were the winner of the series will be crowned. 
"We have crisscrossed the country unearthing the most amazing talent as part of the Flying Fish Beach Volleyball series and are quite impressed to see that the likes of Nomuzi Mabena and Cyprian Ndlovu do have what it takes, so watch out Mzansi Beach Volleyball, we might have a new team come Rio 2016," concluded Flying Fish Brand Manager Leanne Martin.
The next edition of the Flying Fish National Beach Volley Series will take place in Bloemfontein from the 5th – 7th of December, with the last leg of the tournament's grand finale taking place in Cape Town in 2015.