Katchie Nzama is a proud South African travel blogger. She chats to me about the toughest decision she's ever taken in her life which was leaving her day job to pursue her passion, travelling and blogging. In just a few weeks Katchie will be leaving for her Cape to Cairo trip as she explores Africa and retelling us stories of her journey across the continent
You're relationship with travel blogging, was it love at first sight or something you had to ease yourself into?
I've always loved travelling; I always enquire travel agents about where I can go online to find information on ideal holiday destinations and what to do on a shoestring budget or less. I've always had to spend so much time trolling the internet I got tired of it. So I decided I will start a platform that focuses on budget African Travel.
I have a lot to say already so I might as well share my passion and dream with the world.
Tell me more about your love for traveling?
If there is one thing I definitely inherited from my maternal grandparents, it is my wanderlust. They love travelling and made sure to introduce travel to our lives the moment we could open our eyes as infants.
How old were you when you went on your first trip and do you remember that specific trip?
I was probably a few months old and it was a trip to the Kruger National Park. My grandparents love Mpumalanga it's another reason why I love the bush and animals.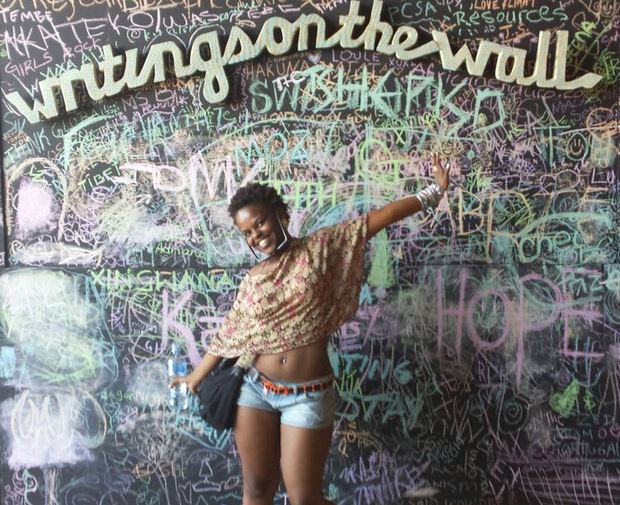 How did the whole African travel #CapeToCairo idea come about?
I have always been curious about travelling Africa. I remember telling my mother that I had no interest in the world if I have not discovered my backyard. Also wanting to make a success of Travel Mzantsi I decided i will be bold and leave my job and sell almost everything I own and go discover Africa on a shoe-string budget. Fortune apparently favours the brave – I have nothing to lose right? Except my mind maybe.
I texted my mother to tell her about this crazy idea and she loved it – Head cheerleader of my fan club. And before long I was planning for an adventure of a lifetime.
Have you visited any of the African countries you will be touring before?
No. I have been to Lesotho, Swaziland and Mozambique a few times. Alone and with my friends, but I've never been to the ten countries I will be going to on this adventure.
Why do you think it is important to travel within your continent?
Africa is seldom shown in a very positive light if you travel out to other continents. We are painted as a continent of intolerance, famine, wars but this is not true. We are the most beautiful and diverse people.
I have also noted that as South Africans, many of us do not know much about the other countries in Africa or the people.
Be curious about your continent. Africa, her beauty, her people, the cuisine, the music – the list is endless.  We are so different yet so similar. I want to highlight those differences but also celebrate those similarities.
We all have so much to learn about each other and travelling is the best way to learn. No textbook will ever teach you what you can learn living amongst the people.
Which place in South Africa would you advise a tourist not to leave without visiting?
Oh my goodness. My first love - Kosi Bay which is the most Eastern part of South Africa. Right on the boarder of Mozambique into Ponto D'Ouro.
Go get into those fish traps and enjoy a small coastal town where not much else happens besides you being one with nature.
Then the Vhembe region of the Limpopo Province. This is also known as Venda – geographically, there is no place called Venda. But you can go there and discover so much about the Vhavenda people and their culture and history.
From Heritage sites to sacred lakes to confluence zones. This part of the country is a little gem waiting to be discovered
Do you have any sponsors so far?
All my accommodation is sponsored by generous accommodation establishments in the different countries and regions I will be visiting. In some areas I will couch surf, as a way to experience life as a local and not with the "Traveller" label. And I already have hosts in those areas too.
Roxy from RoxStar Bikinis has also come to the party and sponsored me with some stunning bikinis for my travels as I will be travelling in coastal areas.
Was it easy finding them? Tell me more about the whole process.
Oh no, planning for this adventure has been going on for six months now. Countless emails were sent. I have been very lucky that the accommodation establishments that will host me believe in my dream and vision.
I had to sit down and figure out what countries I wanted to visit. Then I had to figure out how long I would be staying in each country and what region of the country do I want to visit.
It all came down to 2 weeks in each country, a week in a different region.
Then had to find budget accommodation establishments in each region and send them proposals on what i want to do and what i hope to achieve and also what they will get out of it.
What are you hoping to achieve after this trip?
The whole point of backpacking Cape to Cairo as #TheSoloWanderer is to promote Africa to Africans. I would want us to get excited about travelling Africa before thinking of Europe or the U.S.A.
I think it's a shame that I do not need a visa to Botswana but I have never been there but I will get excited to go pay over a thousand rand for a visa to enter the U.K.
I am hoping Africans will be more curious about each other and make an effort to go out and go learn about each other than believing everything that the media tells us.
Also promote travelling as a lifestyle to young Africans.
Throughout your trip, what will your playlist look like?
This has been my biggest headache. I love all kinds of music and I will definitely be collecting more as I travel. I haven't compiled a playlist yet but there will be everything from Taylor Swift to Zonke to Sauti Sol and even Black Coffee.
I will also get my friends to put together a playlist for me as a way to remember all of them. No bon voyage gifts allowed.
How can people follow your journey online?
I am all over social media. On Twitter and Instagram - @TravelMzantsi
Do you have an idea of what you'll be doing after your trip?
Africa has 54 countries, I hope to work with all of them to highlight budget travel options in each country and use my site as a platform to promote the destinations. I am on a mission to be the Budget African Travel Fairy and Ambassador.
Article by Sandy Nene