Khanyi Mbau is trying her hand at music again, and it looks like this time it just might work out in her favour. 
The 30-year-old just shared her song, Play Play Freestyle, with fans - a track she recorded while having a bit of fun in studio,
The song has received mixed reviews, but mostly everyone agrees the offering is way better than her 2010 effort, Work Up On It. 
READ: Khanyi Mbau ups her fashion game
It looks like Khanyi is putting her past flop behind her, and is ready to slay the South African music industry. 
"They say "in life, never give up, try and try again! " so here it is!" she said on Instagram.
Here is a clip of what you can expect from Khanyi's new song.
Me fooling around with my Track!! A taste of me! (Never b 2 serious in life) just play. This is a parody... 💋#6/16 pic.twitter.com/rcC8icPGOK

— MBAU (@MbauReloaded) April 20, 2016
Listen to the full song on SoundCloud here. 
Here's what fans think of the track...
@MbauReloaded I know my data didn't go to waste. I see some dope soul trap coming from you.

— Bims McFair (@bimsknox) April 20, 2016
@MbauReloaded mama your single is on fleek...💅👌

— ☆¥¤UNGF¤R€V£R☆ (@marrkos15) April 20, 2016
Khanyi Mbau 💁🏽💁🏽as long as I can twerk 😂😂🙌🏾🙌🏾 pic.twitter.com/2gbdbArUCl

— *BW Diamond* (@LiloMaTee) April 20, 2016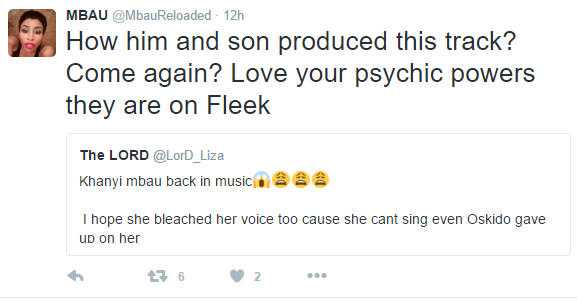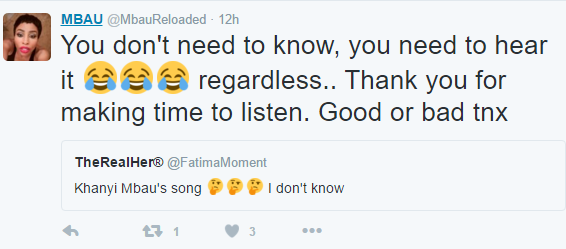 READ: Khanyi Mbau fires back at Pulane Lenkoe
Image credit: instagram/mbaureloaded