Actor, singer and now Joop! Homme's newest brand ambassador,  ZAlebs catches up with the man of the fragrance moment, Lehasa Moloi.
Many of our local celebrities are becoming brand ambassadors for many brands. As the new Joop! Homme ambassador, how do you see this great opportunity offered to you as a way of growth to your career as an entertainer?
I really appreciate the opportunity to represent such an esteemed, popular and widespread brand. I aim to match that level of quality, both when specifically representing the brand as well as with my other endeavours. The response online, via word of mouth and other mediums from when the announcement was made has been remarkable for both myself and Joop! Homme; people have responded positively. I will use this opportunity to entrench in people's minds who Lehasa Moloi is, as a lot of people know my face but not my name. I also have a few exciting things planned as far as featuring Joop! Homme in my music and on-screen projects so look out for that. 
Are you in anyway nervous about taking over previous ambassador, Maps Maponyane's role as the new ambassador? He too did an exceptional job as last year's Joop! Man?
[Laughs] Nervous, slightly, yes, he leaves a pair of very, very stylish shoes to fill as well as an impeccable record of hard work. I am, however confident in the fact that I was chosen to represent Joop! Homme for valid reasons. I put the time in the gym and thus have a body people want to see, I am a performer and thus contrast the suave and sexy with quirky and playful and I am not afraid of hard work, as proven by my track record. So I know all I must do is be myself and when I remind myself of that, I remember that there's absolutely nothing to be nervous about.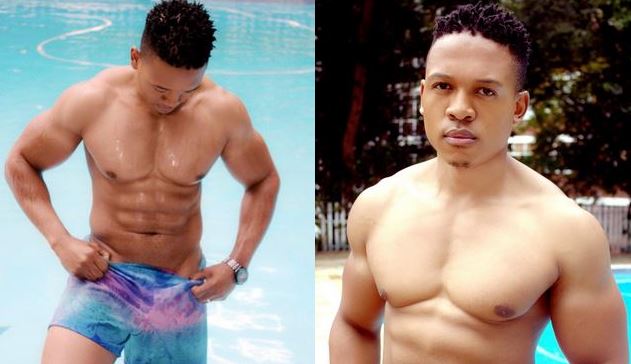 "Real men wear pink" is the slogan that Joop! Homme stands by. What does being a real man mean to you?
 "Real Men Wear Pink" to me means that real men have the confidence to wear whatever they want to wear, especially what society expects them not to. Pink represents sensuality as well as vulnerability for me. A real man has the confidence to exist in those realms. A real man is a man of conviction, a man of integrity and a provider. That being said, a real man is defined by himself and nobody else.
We know it's still early days but what does being a Joop! Homme ambassador entail? Any extraordinary perks we should know about?
Extraordinary perks, [chuckles], getting to travel with Joop! Homme and meeting some very interesting people, well, ladies specifically! It doesn't hurt but basically I'll be representing the brand at events, doing interviews and speaking to people in store about what Joop! Homme is all about as well as getting them to invest in a bottle of the fragrance for themselves. I may also break new ground in my career and MC/host a few events. 
It's no secret that the ladies absolutely adore you, if given the opportunity to make a fragrance for females what would you name it and what ingredients would the fragrance have?
Maybe Joop! Femme :) but I have been dreaming about making my own fragrance for years and I always envisioned it as a unisex fragrance. I'd probably name it after myself, to leave a legacy. I'd call it: "Moloi". It would combine sweet scents as well as spicy notes, hazelnut perhaps, a little bit of aniseed, some citrus... Something along those lines. 
Do you agree that male colognes smell way better than female fragrances?
I'm not so sure about that one, I have been attracted to certain members of the opposite sex just from what perfume they wore. I will say that I've never smelled anything like Joop! Homme: it would make a great addition to your cologne collection or it would be perfect as the one and only fragrance you wear, anytime anywhere, guys. Trust me on the latter, I know from experience.