Our Editor, Tinashe, got the chance to be the envy of many this week. We sent him out to chat to the gorgeous Holly Hagan as well as the sexy Scott Timlin- Reality TV Stars from the British hit series, Geordie Shore. The pair were in South Africa to promote the newest season of the show, let's see what saucy details Tinashe could get out of them!
After arriving at the Marion on Nicol I am given a quick chance to catch my breath before I get to meet the stars of Geordie Shore, Scott and Holly. Scott, is an incredible male specimen. Tall, large, athletic and frighteningly handsome. Holly, sporting purple hair and a relaxed, leisure-day tracksuit, looks calm, pretty, and a little tired. She's very friendly to me as we greet before kicking the interview off.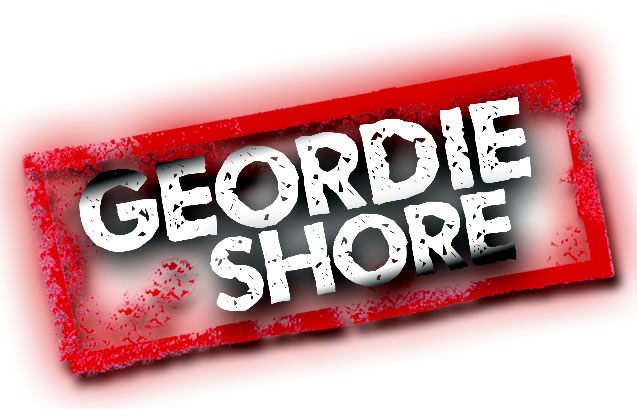 It takes me a good few minutes to fully acclimatize to the Geordie accent, famed for its imperceptible delivery- I was fearing I had no chance, but it wasn't that bad. I begin by welcoming them to ZAlebs and to SA as a whole and I ask how they're doing. 
[Scott,] I'm a wee bit knackered, Its been a mint trip, it's just been intense. We go to bed late at night, we're up early in the morning, we do interviews and we've met a lot of people. We were also dropped off at the H20 Party and got the chance Bungee jump off of the Soweto Towers! It was amazing!
Despite the inevitable fatigue that they are  feeling after a non-stop, crazy trip, they seem to have taken really well to our country- and particularly enjoyed H20. I was hoping they'd have had the chance to ride our infamous taxis, but I was shocked to find out that they had heard nothing about them. I ask what they think of Johannesburg as a City and if we could have our own Jozi Shore. 
[Holly] "I think its a lovely city, a bit different to what I expected. I was hoping to see more animals. As for Jozi Shore, it's a bit difficult to tell really because you've got to find people who won't be bothered about what people say and what people think. It's not all sunshine and roses" 
Our Editor, Tinashe, with Scott Timlin and Holly Hagan of Geordie Shore
Which inevitably leads me to asking more about their show, Geordie Shore. I ask how they were found (Or if they had to audition for their role!) and how they've taken to it since.
[Holly] They do both  [Auditioning and finding]. They would go out and look for people in clubs and stuff-
[Scott] I got found.
[Holly] But there was also an application process to the whole thing. You would apply on Facebook and if they liked you they'd audition you. So i applied on Facebook and it all went up from there. 
[Scott] I was scouted a couple of times and I turned the role down at first Until I happened to be in Cancun and ran into the production crew there. It's been mental ever since, like, it was crazy in the beginning but you also get used to it. 
I ask if they act any differently when the camera is on them. 
[Holly] Not really. We're just ourselves to be honest. From time to time we get a nudge from directors- like when there's a fight, we're told to follow up on the fight, or not hold back. So it's not scripted, but we're given a few pointers and gestures here and then.
It's interesting that they don't view themselves as celebrities, or any supernaturally talented people, unlike their American counterparts [On Jersey Shore] They remain quite grounded and modest, reluctant to admit that they have any "real talent" 
[Holly] It is weird to be so recognized, but I'd never see myself as a Celebrity. All our friends see us as the same people. We're not singers, we're not actors, we're not really doing anything for the country. We're just ourselves and that works for us because people can relate to that. Whereas the guys at Jersey Shore, because they have those millions, and they have fancy cars, it's kind of gone to their head a bit. We're not at that superstar status and I think that's why we can still be a bit grounded about the whole thing. 
I'm of the personal opinion that Geordie Shore has begun to eclipse its American sister show. I ask if they receive a lot of comparisons between the two hit series. 
[Scott] Not really, there were a few at first, but right now everyone talks about our show for what it is. However, you do occasionally hear "Wouldn't it be cool to see Scott and Pauly D in the same house?
I ask about the 5th Season of Geordie Shore and what we, as viewers, can expect from it. 
[Holly] Season 5, we're doing exactly the same as what we normally do, but we're traveling across Europe. We go to Amsterdam- Me and James Aren't speaking to each other, so there's that awkwardness. The girls are getting smashed, the boys are just hooking up with girls like its mad. We also get a lot of different cultural experiences. 
Trailer for Seaon 5 Of Geordie Shore.
[Scott] Exactly, it was all about getting different experiences. In Prague I went to an Absinthe bar and took shots of flaming Absinthe. It was like swallowing petrol!
Will this season be better than the others?
[Scott] People are going to enjoy it, without  a doubt. It's starting to all fit together. There's more partying, more good feedback and more drama! 
Before we wrap up, I have to ask Scott what his ideal girl is, and if he'll ever see himself with a girlfriend. 
[Scott] You know what, I would. I just haven't the right girl. I would put everything off for the right girl. Someone who nobody knows and who would not have sex straight away- someone who would make me wait months. She would be just a complete gem, who is funny as well. 
[Holly] That girl doesn't exist! However, I'd also look for a low-key man. I don't want somebody famous, I would like a nice guy who is patient and treats me well. Looks don't matter, but I'd like someone who's a bit of a bad boy and drives a bad boy car. 
I certainly hope both Scott and Holly find their dream girl/guy very soon. But for now, I have no objection with enjoying their crazy lives on television. Make sure to tune in to MTV tonight at 21:15 to catch the first installment of Season 5!