Amidst the many Mzansi Magic shows and characters we've come to enjoy on the channel, there's one man whom we definitely have come to take a liking to in Mzansi Magic's catering show, Hot Plate.
Hot Plate is a South African reality cooking show that follows the lives of kasi caterers, as we look inside the pressurised world of caterers. One of those caterers that we've come to take a liking to is the infamous Mankomo.
Mankomo has won over many South African viewers, not only because he knows how to really whip up a delicious plate of food, but also because of his quirky and witty responses to everyone who rubs him the wrong way, even his clients.
Besides he's wittiness, we really respect how Mankomo takes his craft seriously - have you watched him cook? Or how neatly and smooth he wants things to run when he's catering for his clients?
Mankomo is in such demand that people go onto Mzansi Magic's social media platforms to request either his recipes or for his services.
You might disagree, but Mankomo makes Hot Plate, although sometimes the things that come out of his mouth are questionable, like the moment when he spoke about stabbing people.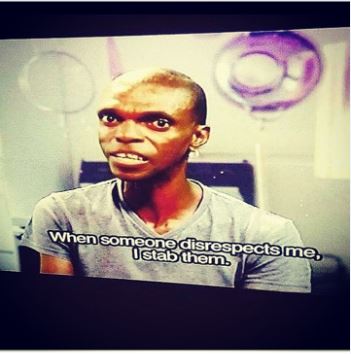 Then there was that moment when he added cheese curls to a dish because he had ran out of cheese sauce, really Mankomo?
(Laughing Out Loud!)
Or even better yet, when he asks people to stop asking him for his salad recipes.
Besides all the laughter and fabulosity he brings to the show, we'd like to again commend Mankomo for being the great cook that he is and always standing his ground. Hopefully, all this recognition will have him opening up his own restaurant one day.