We hope you enjoyed our part 1 interview with the dashing Masego 'Maps' Maponyane.  In our second installment ZAlebs speaks to him about fashion and who the "WeChat" guy is.
For those who are unfamiliar with your clothing line OCD, could you briefly explain to them what it stands for and the vision you had for the clothing line?
How OCD came about was through me just browsing through some men's wear clothing brands and I happen to come across a brand called Augustine.  I thought the brand had a lot of potential and was pretty awesome but they were just missing the point in a few areas. After a few meetings and debates about their product they asked me to come on board as their head designer and creative director.  I saw this as an opportunity because it's something I've always wanted to start doing- although I thought of it as something I'd take up in about five years time. However, the opportunity presented its self to me unexpectedly and I was more than willing to help the brand reach even greater heights in the fashion industry.
Collaborating with Augustine was also an opportunity to just show people what was going on in my head and the ideas I had, despite not coming from a formal fashion-design background.  So as a creative director I decided to form a collection for Augustine called OCD (Obsessive Compulsive Disorder) because I'm also quite an OCD type of guy.  I like things to be done a certain way, I like being organised and I'm always worried about symmetry and lines.  So the vision I had for OCD was to create clothes that would make a man feel confidant and quite clinical in the way he dresses, neatness and being sleek would be the order of the day in terms of his dress style.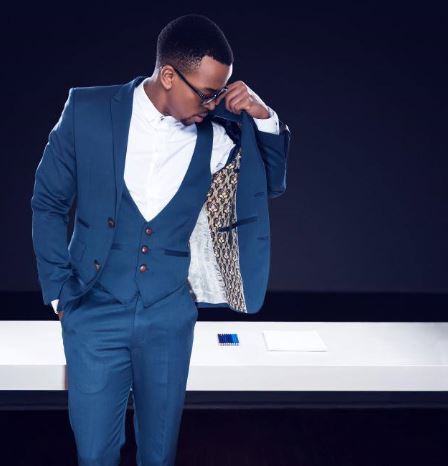 What will you be wearing at the Joop! Homme Ultimate Ambassador Announcement gig? (21st of November)
As strange as this may sound, I'm honestly one of those people who only starts pulling together an outfit like an hour before an event or on the day. For example at the GQ Best Dressed Men's Awards I absolutely had nothing to wear and I was the MC for the night, so I had to put some considerable amount of effort for my outfit. 
I decided to then go to the Augustine studios where we began making cuttings for a suite.   We fortunately were able to complete my sleeveless suite just in time.  So to be honest I have no idea what I'll be wearing for the announcement but its sure going to be a sleek suit and it will also depend on how I feel on that day.
Is there anything else Maps is doing on television besides us seeing you occasionally on our TV screens as the "WeChat" guy?
I can't really go into detail about this, but I will say that I'm currently shooting a second season of a drama series as a new character coming onto the show, so people should please look out for that.
Looking at the "WeChat" commercials you seem to take on the character of a very nonchalant guy.  Is that what the "WeChat" guy is about?
Well that's who the "WeChat" guy is; he's very cool and laid back, totally opposite from who Maps is. I also think that he's a bit of a ridiculous character which I enjoy emulating and being a part of I also believe that he's quite entertaining to watch. I've really tried not to make him look like me as much as possible and many people might not know this but acting is one of my greatests passions and with that being said I hope I'm doing justice to this "WeChat" character.
Do you have any last words for Lunga Shabalala before the 21st of November hits? 
My man it's been an honour, I know I'll be happy if I win but I also know that I'll also be happy if you win.  May the title go to the best man and I know that we're going to always support each other.  Lunga is one of those people that I've actually really enjoyed going through this journey with because he's a very genuine guy who hasn't gotten lost in the hype of things with our industry.  So win or lose we're still going to be doing a lot of stuff together in the futur.  
Images by:  Augustine Johannesburg