Johannesburg was the second South African city to be captivated by the sounds of Neo-soul/R&B singer Maxwell who is currently on a three city tour of SA. The Joburg show  took place at the Coca Cola Dome this past Saturday.  Thanks to the great team at Canoc Productions and our good friends from Castle Milk Stout, ZAlebs was given the opportunity to attend this long awaited concert featuring one of the greatest heart-melters to come out of the R&B circuit.
Upon our arrival it was clear that this concert was not only for the grown and sexy but for the lovers too. Now, you can imagine how us single individuals felt as couples arrived dressed to the nines, holding hands and ready to embark on a musical love journey with Maxwell.

Before Maxwell's took to the stage, the crowd at the venue united in honour of the late Nelson Mandela. The concert was kicked off by Brenda Fassie's 90's hit My Black President which had the entire Coca Cola Dome roaring with pride. The audience pumped their fists in the air to pay tribute to the man who we had considered as the father of the nation.  Emotions were high as it dawned upon us that both Brenda Fassie and Madiba were no longer with us. If you didn't have a tear in your eye on that night you were guaranteed to at least have a lump in your throat. As emotional as the moments were, we were not there to be sombre but to celebrate.
After the touching tribute, Maxwell, the man of the hour arrived. Slowly walking towards the front of the stage, dressed in a sleek-tailored-maroon suit and crisp white shirt.  His immediate presence had several ladies flocking towards the stage- security barely managed to keep them at bay! Without wasting any time, Max kicked off the concert with his single Sumthin' Sumthin'.  We didn't expect any form of choreography or dancing to be displayed on stage but like the smooth gentleman he is, Maxwell showed us a several sensual moves that involved the gyrating of his pelvis in slow motion.  Not one lady was seen not fanning herself at that moment.
ZAlebs also appreciated his sincere feelings towards the loss of Mandela as he performed a tribute song titled Help Somebody which was accompanied by beautiful montages of Madtiba splashed across the screens .  He also expressed a great excitement at finally being in Joburg.
"I don't think you know how special it means for me to be here Johannesburg!" he said.
When he performed Woman's Worth, we found it hilarious that the crowd attempted to sing the first note of the song (Which is a high pitched falsetto that sounded like an alley cat choir!)  and sounded terrible;  nonetheless Max was on hand to show us how it was done. 
Special moments of that song included one where the camera panned to the audience showcasing couples embracing and kissing each other. According to Twitter, one brave gentleman proposed to his girlfriend while Woman's Worth was being performed (We hope she said 'yes' buddy!)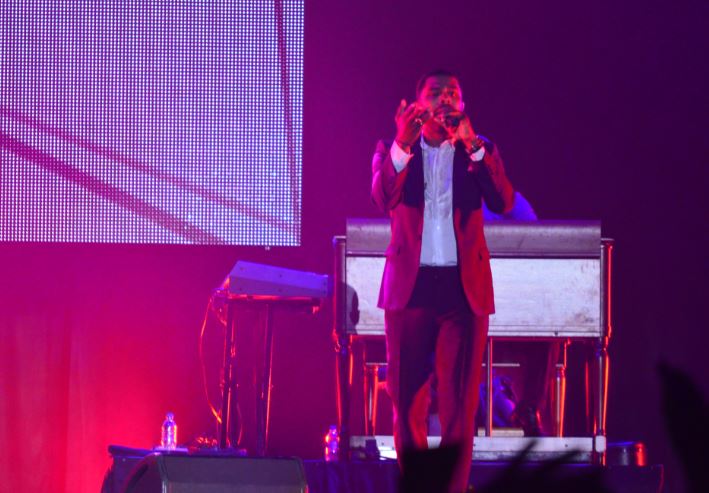 What a lot of people won't know about Max is that he is actually quite the funny guy.  "I'm in Johannesburg man!" He yelled as he caught us off-guard when he momentarily rapped French Montana's 2013 single Worried about nothin'.
"I'm in Johannesburg man! ... I aint worried about nothin' n***, n*** I aint worried about nothin'.  I know, you'd think I don't listen to those types of songs but I do." He said as he broke into the money dance for a few seconds.
The Crowd continued to sing along to such hits like Life time Bad habits and songs with infused sexual lyrics such as the popular Get to know ya which received such a positive response from the crowd it took Max back a bit:
"South African's ya'll are nasty." He joked as we busted out in laughter.
There was even a point when he jokingly asked the ladies why there weren't any panties being thrown on the stage. We might be mistaken but after his question we think we saw a couple of bras being make their way to the singer's feet!
The concert ended off with one of the most anticipated songs for the night, Pretty Wings from his Grammy award winning album Black Summer's Night which had everyone on their feet swaying from side-to-side. Some were even standing on their chairs while singing along.
Maxwell's concert was undoubtedly one of the most quality focused concerts of the year.  His vocals and band were on par giving his fans their money's worth.
A hearty thank you to Canoc Productions and Castle Milk Stout for the invite and spectacular concert.  Maxwell's last leg of the tour is taking place tonight in Durban at the Wavehouse.
Gallery coming soon.