Mihlali Ndamase
is a popular YouTuber, social media influencer, and makeup artist who is known for her beauty and makeup tutorials.
Over the years, the young star who sometimes attracts controversy for one reason or another has been able to secure big deals with brands including NYX Professional Makeup, MAC Cosmetics, and Urban Decay.
The beauty influencer who has amassed close to 2 million followers on Instagram has also earned several prestigious awards to her name, including a Feathers Awards for Socialite of the Year, The Next Big Thing Award at the SA Style Awards, and a Best Beauty Influencer Award at the Cosmopolitan SA Influencer Awards, all in 2019.
In 2021, Mihlali who also runs a charitable organization, was listed in the Forbes 30 under 30 list, further solidifying her mark among the young elite.
But awards and recognitions are not all that the gorgeous influencer has made from her hard work, she has also made good money which affords her the life she deserves.
Here is a look at all the details of Mihlali Ndamase's house that she recently purchased, a quick sneak peek into her garage and a brief overview of her net worth.
Details about Mihlali Ndamase's house
In March 2022, Mihlali Ndamase took to Instagram to flaunt her latest property in the form of a grand house.
The talented and ambitious beauty influencer had initially promised to buy her first house at 25 years old, and she has made that dream come true.
At the time when she shared the video, Mihlali Ndamase's house still looked brand new and it appeared that she had not settled in as there were boxes filled with furniture in the building.
Although she hasn't shared an official tour of her house, from the photos we have seen on social media, Mihlali Ndamase's house is a double-storey building. The interior walls are painted in crisp white and the house is furnished in a beautiful black and white theme that screams elegance and opulence.
We can't wait for Mihlali to officially share a video of her house tour and we are sure to get a few ideas of a dream house but in the meantime, you can check out the unofficial house tour below.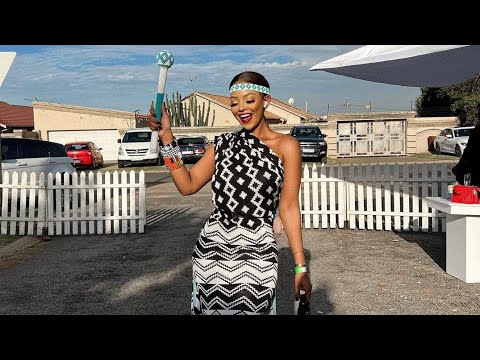 What car does Mihlali Ndamase drive?
If you thought that Mihlali Ndamase's house is the only way that the young beauty influencer flexes her good life then you should think again.
Among other things that soft life and good money have to offer to Mihlali Ndamase are sleek machines, and sis knows how to pick a car to match her taste.
Sources report that Mihlali Ndamase drives a Mercedes Benz and that she also bought her mother a Jaguar XE. How cool is that?
What is Mihlali Ndamase's net worth?
She has made her millions majorly from her work as a social media influencer and YouTuber where she reportedly earns R2300 per post on Instagram alone, and she is ranked as one of the most successful social media influencers in South Africa.