Last month YOU magazine decided to take cancer awareness to a whole new level by publishing pictures of  local celebs Lee-Ann Liebenberg, Shashi Naidoo, Poppy Ntshongwana, Zakeeya Patel, Elma Postma and LeAnne Dlamini to show their support for this important cause by appearing in the magazine "without hair". . 
"For many celebrities, their hair is an integral part of their public image. So we love that so many have been brave enough to have our picture retouchers 'shave' off their hair," YOU editor Linda Pietersen said in a press release.
However, not everyone supported the YOU campaign, causing quite a stir online.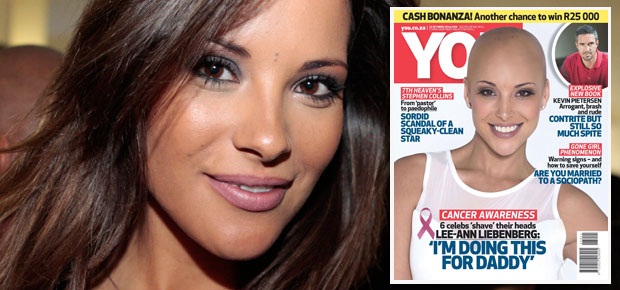 The outcry however came over the fact that images of the celebs that went "bald" for cancer were in fact digitally manipulated. Members of the public felt that the Photoshopped images were a low blow to those affected by cancer.
This week, mine! magazine decided to get real.
30-year-old Hess, from Grassy Park in Cape Town, is currently battling breast cancer and appears bald, brave and beautiful on the latest cover as she shares her journey - including that cancer, her breasts, nor her hair (or lack thereof) defines her.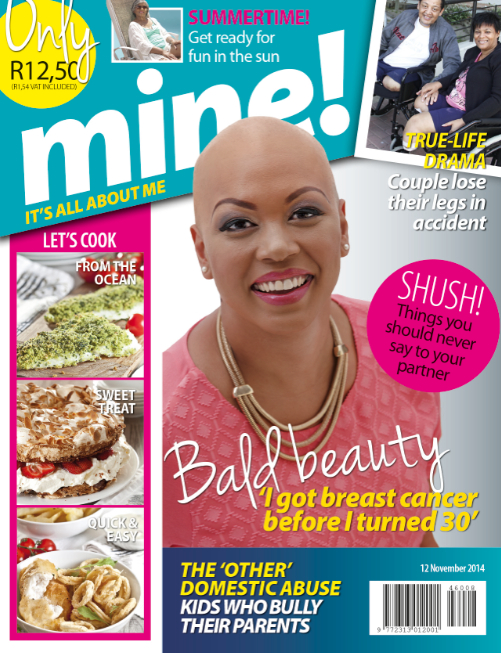 "As October was Breast Care Awareness month it was a natural decision for us to salute a woman fighting the disease with a cover feature. We believe that a woman like Hess has the power to raise awareness and bring encouragement to many other women fighting the disease. And doesn't she just look stunning?" says editor of mine! magazine, Kay Karriem. "Tania reveals that she is still a woman, still smiling and still standing."
 
Although one would expect for Hess to be sad and emotional, she told mine! magazine that is not who she is. She fights back with prayer, positivity and humour. For bald, brave and beautiful Hess, cancer is part of her journey, and although it is an incredibly tough ordeal, she refuses to live her life terrified of the illness. Cancer doesn't necessarily spell death for her. She tries to live her life as normally as possible and remain the bubbly person everyone knows and loves.
 
For the full story of Hess' inspirational journey and battle with cancer, get the latest issue of mine! magazine – on sale now.