You either love her or loathe her but one things for sure, Tryphina is one of the most talked about cast members of Muvhango currently. If memory serves you correct we wrote an article about how much Tryphina is getting out of hand, poking her nose where it doesn't belong, read it right here.
During the weeks, the Muvhango team did the unexpected and hosted a Twitterview with Tryphina with the hashtag #20QuestionsWithTryphina. Now we're not sure if the Muvhango team know how disastrous a Twitterview can end up, maybe they should've inquired with Mmusi Maimane for advice before diving into the pool of Twitter sharks who were waiting to devour Tryphina.
Here are just some of the few questions that the fans of Muvhango asked Tryphina and to be honest they were actually not that bad.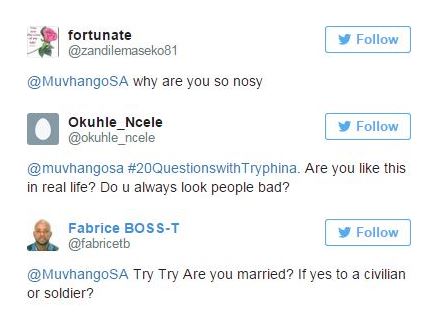 Tryphina replied to as many questions as possible, a favourite response was this one:
@MuvhangoSA but why you never wanted Carol to marry Raps? Because she couldn't be with Lerumo and she loved his son.

— Angel Dlamini (@Angel861013) June 2, 2015
Tryphina's classic response
@Angel861013 #20QuestionswithTryphina. She cant just pretend everything is ok... She must be punished.

— Muvhango (@MuvhangoSA) June 2, 2015
You gotta love Tryphina's unapologetic behaviour though, even when the situation is none of her business, she's adamant to involve herself in it. You go Try Try!