First of all, all the shallow ladies out there must know up front: his nickname bears absolutely no resemblance to his actual physical attributes! We finally got to meet up with the Angolian born, South African rapper Priddy Ugly aka Richardo Moloi and we realised that there's actually more to the rapper than what meets the eye. We spoke about his career as well as his dancing; let's see what he had to say.
Many people might not know this but you come from a dancing background. Do you still dance?
Unfortunately I don't dance anymore but a while back I was performing at a show in the East Rand with Cassper Nyovest. I had performed my unreleased track titled Nightmares which has a bit of dub-step influence to it.  Whilst performing I saw a couple of kids Krumping in the crowd, I invited them on stage to Krump and before I knew it I was taking off my shirt and dancing with them. It was a crazy experience man; it reminded me of the good old days.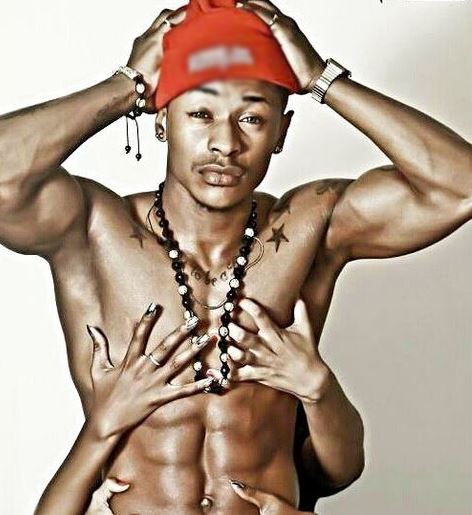 ​
This is off topic but you brought it up when you spoke about taking your shirt off.  How often do girls ask you to go topless?
Its crazy man, it really is. I was at the gym the other day and my friend were prepping for a session. There was a window by where we were exercising and to our surprise there was a bunch of school girls who were ogling and screaming over us. It baffled me because I was all crusty and sweaty. One of the girls even asked me to take my shirt of there and then!
Well…did you?
No I just lifted my shirt up a little, she still went crazy but yes I get asked to take off my shirt a lot. It's a bit annoying at times; I want you to love me for my music and not for the abs but hey it comes with the territory.
Back to the music, you recently released the single For My Town with Cashtime member, Smashis and it's been making a lot of noise in local clubs. Tell us more about that single?
It's interesting because that song is like all the United Nations hopped onto that song and breathed life into. The guy who produced the track is from Zambia and the song was mastered in the US and mixed by Khustic Media. They've mixed tracks for the likes of Donald, AKA and DJ Tira. It's a really special song to me because we spent about four months working on the beat alone because I really wanted the sound to be more African than anything.
The concept of the track came about whilst driving to school. I wanted to do a song that represented my town without me only giving mention to Joburg because I didn't want to seclude anyone who's not from Joburg who might happen to like the song. So if you're someone who's proud of your home-town and you're representing and making money for your town, this song is for you.  
Did you guys intentionally make this song for the ladies, especially seeing as you brought Smashis onto the track too?
For sure! I mean, it's a feel-good song and ladies love Smashis. Surprisingly enough, Smashis hated his verse but I loved it  and everybody in the studio digged it.
Pssst.... What's Kelly Rowland up to now?
We've watched a couple of your music videos and we must say they look proper. Who is the production team that is behind your music videos?
Basically the two videos that I've recently shot (Love hate and Swag Demonstration) were shot by Nkululeko Lebambo; I used to dance with him a few years back. He's a super-talented guy who's always working with me to create something that's different from the next music video you see on TV. Our country is a bit conservative and we just wanted to push the boundaries a bit with this music video and I think we did a pretty good job at doing so considering that we were working on a tight budget.
You guys really pushed the boundaries with the Love Hate video, how did you manage to get in character with cameras all over  the place and the crew watching you and your "lady" in the video?
People might not believe this but I'm a very shy guy and at the time of shooting the video I had only started my career as a solo artist and started becoming comfortable in my own skin. We really wanted the video to be as subtle as possible but it didn't turn out that way. It was very difficult for me but hey the show had to go on and we had to make it look as professional as possible. I was so nervous because my friends were there, my manager's mom was there so it was also a bit awkward but hey, it had to be done!
What are your thoughts on Priddy Ugly's Love Hate video (And don't worry, if you MUST talk about his abs, do it in the comments section! We gotchu)