The 14 track album is an artwork of some smooth yet intense authentic and emotive songs, expressing life experiences from discovering oneself, mental health, relationships, and family life which many resonates with.
It is no secret that
Ricky
is currently at the peak of his career and he is making his mark in the music industry and gaining momentum in the international
music scene.
His unique sounds and kind demeanor, has earned him a special place in the hearts of many
South Africans.
ZAlebs recently had an opportunity to secure an interview with one of the South African sought-after young rappers about his music career and we delve-deeper into his personal life.
Ricky Tyler
who was raised by a single mother with his siblings says his love for telling stories inspired his music career "I am someone who has always loved music and I am very diverse, and I love to tell stories. With everything that I have been through it allows me to teach the lessons I have learned. It allows me to heal and comfort people, meet different people, and live the life I love."
Ricky's rise to stardom started with modeling and acting, and he says he has always known that he was going to be in this industry "I have always known I was going to be in the entertainment industry. If it wasn't acting it was going to be modeling or even dancing. I love to create and inspire people and I have always been artistic," he explains.
Ricky
says he would go back to acting but he incorporates what he learned to his current work such as his
music videos.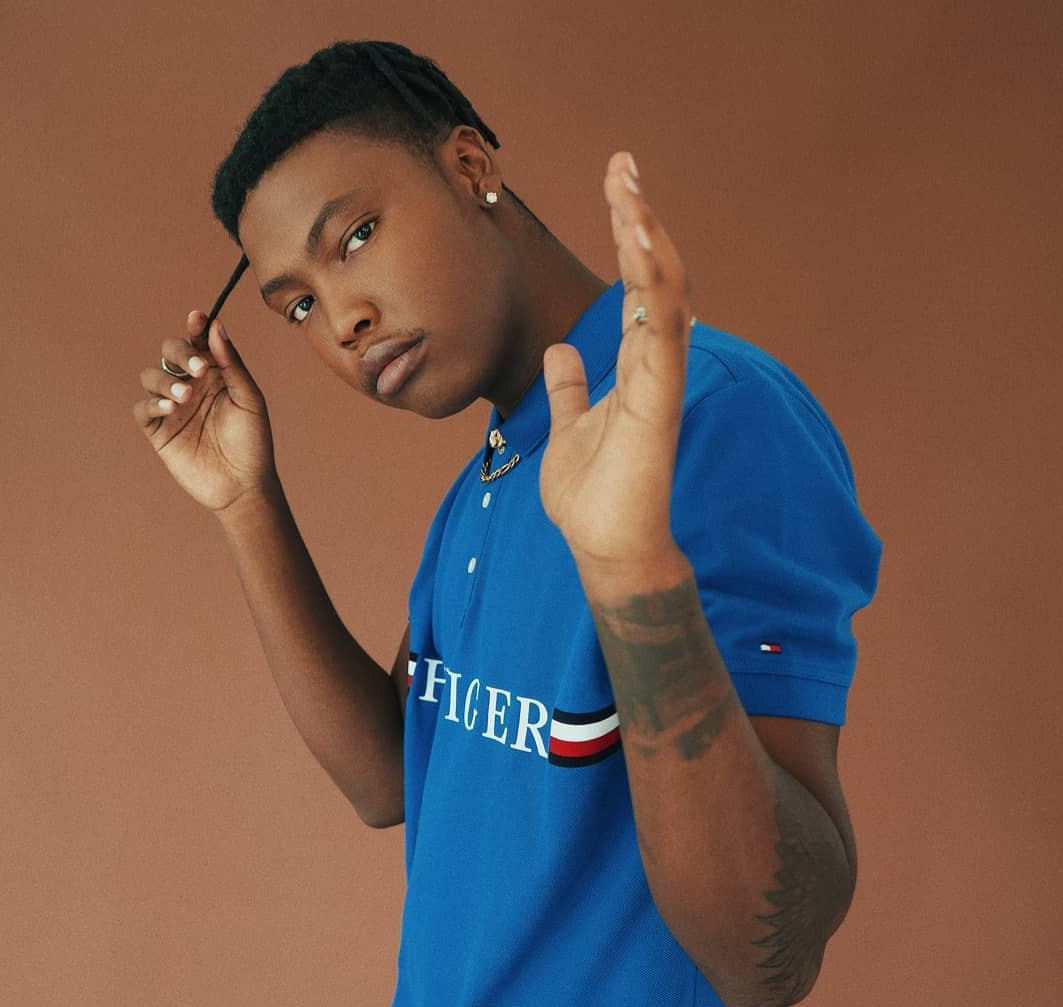 In 2012, while Ricky was still in high school, he entered talent search auditions conducted by Judges from Orlando Florida (USA) at the Emperors Palace. He was selected to participate at the International Arts Convention "Applause Rising Talent Showcase," which took place in the opportunity to be selected for the PLITZ New York Fashion Week in September 2013 to model exclusive clothing range.
Ricky
says he made the cut and he was signed to FFT, "After I had signed to FFT while sitting at a chair, they told me that the same person who was sitting at the chair was Miley Cyrus, and that was the first agency that recruited her before she was big."
He says they sent him to the New York Fashion Week, where he was inspired by other musicians and when he came back to SA he had already decided he wanted to pursue a music career.
The East Rands native says the reception has been electric since he released his latest project and fans are loving it.
"It has been nothing but electric, we have already done over 200 000 streams and the love has been insane. Fans have been sending me messages non-stop and each and every song I'm getting messages on what they have taken from it and how they relate to it," he says.

Ricky
featured some of Africas finest musicians including the likes of KLY, Alpha P, M.I Abaga, and Havery. Giving us more deets on how his collaboration with M.I and other artists came about he says, "M.I reached out to me when I dropped one of my biggest singles Deja Vu. He reached out to show some love and followed me on social media and we started having chats, and I needed an Old G on this album and I reached out to him to see if he can jump in and he replied instantly."
Ricky
has risen to stardom and he is winning in this game with his music doing great things, but he says this is only the beginning of bigger and greater things.
"Right now I feel like I'm getting started, I have been working on this for 8 years in my life and now my biggest blessings are happening. It has been small achievements for the past couple of years but now I have much bigger opportunities and I feel like my life is getting started and my music career is only beginning now because now peeps know who I am and from this album, people know what's going to happen from now."
Ricky
says working on this album was a therapeutic journey of self-discovery and, and tapping into different feelings that he hasn't acknowledged about himself.
He says he has had a lot of sleepless nights as he was hard at work aiming to produce an impeccable album with crisp sounds that would steal many hearts. The
Thirty Ks
hitmaker says he started working on his album 3 years back.
"I would say I started on songs that would potentially make the album three years ago. With the album, you make music as things go and you put your list down on what might be good for the project."
The
album
tackles different predicaments he has endured in life and he says one of the insecurities that he hasn't opened up about to date includes not having a father-figure in his life. The musician says his father disappeared when he was very young and to date, he is nowhere to be found.
"It is something I don't really speak about but I think I am becoming more comfortable with it, it's something I thought I made peace with it, but even today I'm still trying to make peace with. The issue of my father has been something that has thrown me off because he is someone who missed out on a big part in my life, he left when I was born and I never saw him again".
"It really bothers me because I don't know where he is, I don't know if he is alive and I don't know where he is. I always feel incomplete because there is a side from my father that I am not familiar with," he opened up.
He says whilst writing this album he was engulfed by a lot of emotions and insecurities about the missing of his dad. Ricky says the biggest challenge in his life was teaching himself how to be a man and how to make decisions and to stand for himself.
The musician said he will forever be grateful for being blessed with an older brother, who has taught him the ropes of becoming a man.
The Def Jam signee who recently signed to the prestigious record label says it means a lot and it means changing the game and opening doors to growth and new avenues.
"Being signed to Def Jam means that I have the opportunity to take our music to a whole new level, I get to be a part of changing and setting a new bar and also opening new avenues in terms of what kind of music we want to hear and adding value to the game. There are a lot of musicians who are dropping different genres of music that we do not know in Africa and I'm in a position where I can open those doors as I'm into different genres, I get to be part of opening a new market in terms of music."
The lockdown period has put a lot of plans on hold and Ricky says, it has not affected him a lot besides the fact that they are not making a lot of money like they used to, but saving lives is important to him "I have made peace with the fact that we are not making money now, people need to understand that coronavirus is killing people so we can't be out there doing gigs and making money that is a selfish act."
He says his production side of shooting his music videos has been hardest hit as he is unable to shoot at different locations and have more people on set, "We have to now capitalize on everything we have, we have to change concepts and shoot where there are fewer people. We had concepts where there would have been a lot of people but now we cannot shoot there."
He says he has started working on visuals for his album and 1 music video is done and the other is almost complete. One of his music videos features his family and he says working with them was amazing" When you see the music video comes to life they kill it, we did about ten takes for my artwork to get everything right and it is a special project.
"I do it for my family and that keeps me going and I have nieces and nephews who look up to me and I have my mom who has really sacrificed so much for me,"
Ricky
says his future plans include opening his own production company, he wants to write, produce his own shows, open his own agency so that he can be part of nurturing new talent and so life coaching.
His dream future collaborations on the African continent says it includes Wizkid, Davido, Cassper, and AKA.
Image Credit: Rickytyler.ink.co