Credit: SA Hip Hop Awards/Twitter
The second annual South African Hip-Hop Awards took place at the Alex Theatre in Braamfontein, Johannesburg last night. The event saw multiple categories nominate the vast brands within the genre.
According to event organiser, Lerato Lefafa, the awards give recognition to proactive artists who work tirelessly to put their own brands, as well as South African Hip-Hop, on the map.
"We're looking at Hip-Hop as well as proactive brands that are currently making a mark within the industry, "said Lefafa.
"We're honouring those who've made an impact and a contribution to the genre while nurturing the genre," she added.
The star studded occasion included the likes of MTV's Nomuzi Mabena, Zuluboy, Skwatta Kamp's Flabba, Shuggasmax and Sliqour as well as Hip-Hop Disk Jockeys, Akio and Raiko.
Poet Mak Manaka officially opened the event, which went back in time by remembering artists who illuminated the genre. We saw rapper, Mischief performing with a bouncer who seemed more like the former star's shadow. Members from P.O.C. sent fans down memory lane with their tracks and Senyaka of the early 90's also made an appareance with his b-boy dancers.
DJ Dimples was crowned The King of Gauteng Award; Moja Pooh took it for KZN, while Yakheem Ben Israel was the King of Eastern Cape and Damian Stephens the king of the Western Cape.
Winners from other categories included :
Best Dance Crew: Vintage,
Best Graffiti: Mars,
Best Freshman: Casper Nyovest,
Mixtape of the year: DreamTeam,
Best Lyricist: Reason,
Best Producer: PH
And the Milestone award went to Zakwe.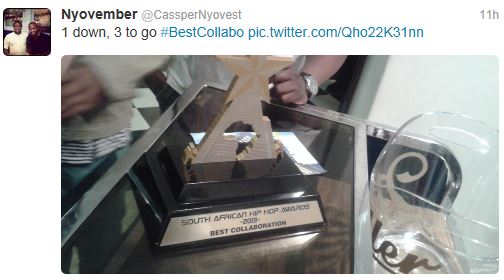 DA L.E.S' performance was nothing short of shocking with a pole dancer. The artist performed with AKA and Maggz to an excited audience.
"It feels good to have been nominated tonight as it means someone is recognising what we do as artists, we're really happy to have been here and we're looking forward to the growth of the awards," said DA L.E.S.
According to Ghetto Ruff Records MD, Lance Stehr, South African Hip-Hop is currently making a mark for itself through its innovative ways of expression and sound definitions.
"This was an amazing initiative particularly with no sponsorship; it is always great to see talent being celebrated. I do feel like the genre is making a name for itself and standing its own ground however I wish South African Hip-Hop would have its own identity so our artists don't sound too Americanised in that way we would be able to market what we do here abroad," Stehr said.