The South African Film and Television Awards (SAFTAs) nominees for 2016 were announced on Thursday, and there were a few snubs! 
Date My Family (season one) is up for Best Reality Show, alongside Global Wheeling (season one) and Ultimate Braai Master (season three). 
Ayanda, a movie produced by Terry Pheto, was nominated for five awards, including Best Feature Film. The movie's lead actress, Fulu Moguvhani, scored a Best Actress nomination.
Pics: Celebs at Ayanda Movie premiere
The Best Lead Actor and Best Lead Actress in a TV soapie are two of the most anticipated categories. 
Isidingo's Tema Sebopedi and Leeanda Reddy will go head-to-head in the female category, with Binnelanders' Brumilda van Rensburg also in the mix. 
Motlatsi Mafatshe (Isidingo), Isibaya's Vusi Kunene and Siyabonga Twala are nominated in the best male category.
Isibaya, which has a total of seven nominations, is also up for Best Soap, along with Ashes to Ashes and Rhythm City. 
Saints and Sinners also scored several nominations, ZA News: Puppet Nation is the top performer with 11 nominations.
But how is it possible that Skeem Saam only received a nod for Best Achievement in Directing (TV Drama)? 
TV personality Minnie Dlamini and Scandal's Masasa Mbangeni were some of the celebs who attended the nominations announcement at Johannesburg's Monte Casino.
Masasa and Scandal were snubbed big time, and she let her feelings be known by retweeting a tweet about the judges' decisions.
READ: Masasa Mbangeni is leaving Scandal!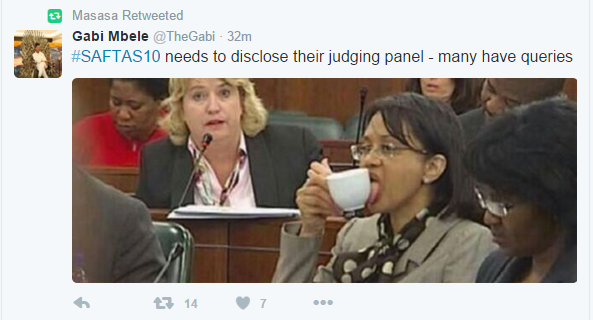 Skeem Sam was not nominated #SAFTAS#? What about Utatakho? Whose is in the judging panel?Not happy at all!

— Didi Mohlabi (@DMohlabi) February 18, 2016
I can't and have NEVER with the #SAFTAS. ten years later, they still get it SO WRONG??

— Buhle Mbonambi (@Buhlebonga) February 18, 2016
@SAFTAS1 Shocking that @MsMasasa @etvScandal is not nominated. Peep the TL and see how many are shocked. Reveal your judging panel #SAFTAS10

— Staying Gracious (@v_bonna) February 18, 2016
No #Uzalo No #SkeemSaam ay man why though 😐😕😐 #SAFTAS10

— Bonisiwe Mtshali (@Bonnie_mts) February 18, 2016
The SAFTAS are trash anyway... ✋😒"@TerryOnDemand: But @etvScandal should've been nominated though 😒😒😒😒😏😏😏 #SAFTAS10"

— Bongani (@Bongy_ZA) February 18, 2016
Here are more SAFTA nominees:
Best TV Drama
Saints and Sinners
Matatiele
Umlilo
Best Achievement by a Lead Actress (TV Drama)
Linda Sokhulu - Shreds and Dreams
Gugu Masondo - Shreds and Dreams
Ntathi Moshesh - Saints and Sinners
Best Achievement by a Lead Actor (TV Drama)
Bheki Mkhwane - Uzalo
S'dumo Mtshali -Saints and Sinners
Siyabonga Radebe - Saints and Sinners
Best Achievement in Directing (TV Soap)
Neo Matsunyane - Skeem Saam
Eric Mogale, Siyabonga Mkhize, Heather Cooke - Rhythm City
Gert Van Niekerk - Ashes to Ashes
Best Feature Film
Ayanda
Dis Ek, Anna
For Love and Broken Bones
Best Achievement by a Lead Actress (Feature Film)
Fulu Mughovani - Ayanda
Thishiwe Ziqubu - While You Weren't Looking
Jana Strydom - Treurgrond
Image credit: Supplied