ZAlebs speaks to actor and businessman Sipho Masebe about his mother, charity work and his role in the entertainment industry as a whole.
Your mom was a member of the world renowned group the Mahottella Queens.  How was it like growing with a mother of such calibre who travelled extensively for most of your childhood?
It was a bitter sweet situation because at the end of the day every child wants to grow up with their mother around and in my case mom was always away travelling.  So to some extent I was raised by my grandmother however when my mom came back I knew that it was going to be a special treat because she would always bring back gifts from all around the world.  I also knew that she was out there working for her family and not absent for no reason.
I kind of used that to my advantage because at school I was that kid who received preferential treatment from school-kids just because my mom was famous.  It was great fun.
Still on the topic about your mother, could you tell us more about the soup kitchen you and her opened in Alexandra Township?
We actually established an orphanage called Uthando labantwana (Children's love) orphanage.  We've adopted a total of fourteen kids who live there with my mom and every Monday and Tuesday we hold a soup kitchen for the unfortunate in our community which also includes some food parcels and occasional luncheons. 
Also in the pipe-line we're busy planning a 'grow your own garden' project to help teach people how to grow their own food and to develop some sort of independency on how to sustain themselves and eventually stop the cycle of people constantly begging for food.
You've appeared in a couple of TV shows such as Rhythm City, Scandal and also acted in a short gay film.  Out of those three projects which one was the most challenging and rewarding in terms of skills development as an actor?
I wouldn't necessarily pin-point a specific project as I believe that every TV show and short film I've been involved in has contributed to my growth as an actor.  I would add that the eKasi short film I acted in as a gay character really challenged me more as an actor plus it was nominated for an international award, which I feel was a great achievement.
You're also quite involved in South Africa's entertainment industry.  What's Sipho's exact role in this whirlwind of an industry we work in?
Inside the entertainment industry I work as a brand strategist.  Our job is to basically align the brands with the right market and to also device marketing strategies; I thoroughly enjoy this side of the entertainment industry because it allows me the creative freedom to affiliate the brands with certain people and personalities I feel would be suitable for the brand.  I'm also currently the new brand ambassador for Nokia and also involved with the NUVO Sparkling Liqueur ambassador campaign that's currently underway.  So I've just been extremely blessed to receive a lot of support from corporates, there's a magazine I also co-found called Blast Magazine that's also my baby on the side.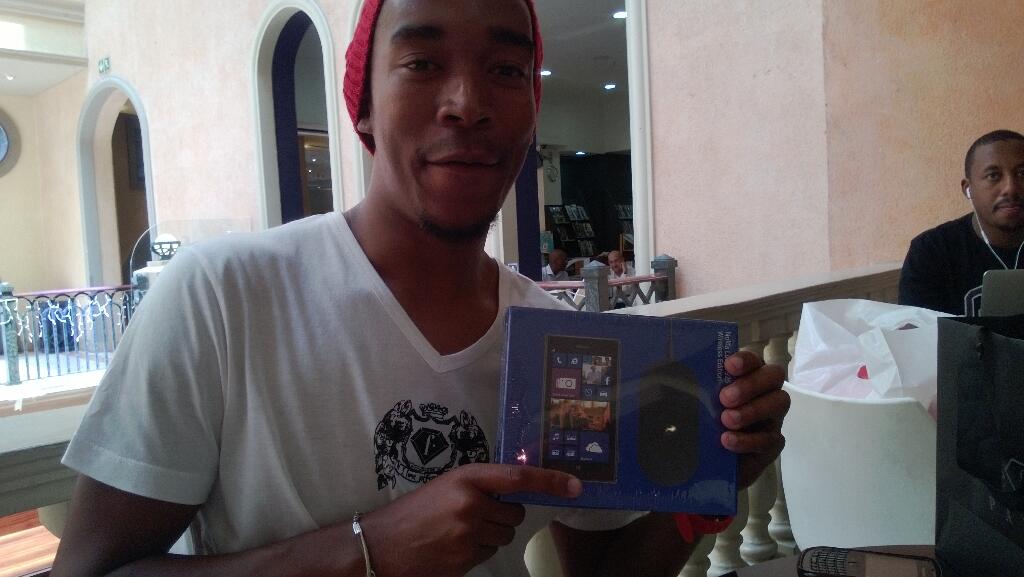 As a part-time model also, what's been your favourite Photo shoot?
I've done a lot of photo-shoots and considering that I haven't dabbled into modelling for a while now I've become very picky on what photo-shoots I do, but my most memorable photo-shoot was for a campaign called "NO H8" .  "NO H8" was not only a photo-shoot but it was also for a great cause that focused on zero-tolerance towards discrimination and hate directed at women, children and certain minority communities in our country.
Tell us about the day you first met the late Lebo Mathosa on your 21st birthday. 
Wow! That was definitely one of the fondest moments of my life.   Anyway, as a kid I was always that person who was a liker of things so I initially wanted to create my own celebrity clique so every time after school I'd go to the areas where the likes of Stoan, Jah-Seed and Lebo would chill at just to be around celebrities.  So on my 21st birthday Lebo arrived at my party after so many years of not seeing her and that was like at the height of her career, that day was just so special to me, I was pretty chuffed about that.
Music wise what's going on with your career?
Two years ago I had an album called "Paper-Chaser" it unfortunately wasn't much of a success due to the fact that I wasn't really portraying the real Sipho on the album, it was more of what the record company had in mind.   I ended up telling stories in the album that I couldn't relate to but now I've taken the route of being completely honest with myself as an artist and I'm currently embarking on my second offering which is commercial and tribal house type of vibe.  I'm hoping to release my first single by the end of March but I'm in no rush as long as I give the people out there good, quality music