Things just keep getting better for Thando Thabethe. 
The 25-year-old actress and radio personality will be kicking off the New Year with a new daytime show slot.
According to 5FM's station manager Justine Cullinan, as of Monday, 8 January 2016, Thando will present the 10am – 1pm slot from Monday to Friday.
This comes after Poppy announced on Twitter on Wednesday, 15 December that she was resigning from 5FM after 10-years of being on air.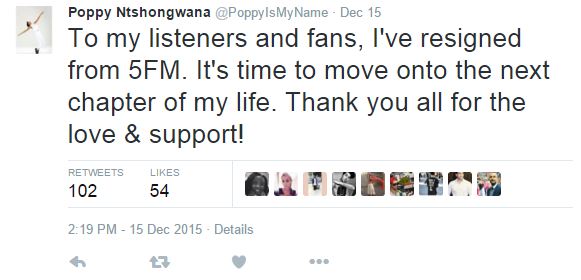 "Thando has proved her ability to tell great stories on radio and engage with 5FM's unique community both as a contributor on the Roger Goode Show and as host of Beats by Demand on Sundays. We are delighted that she will be stepping into Poppy's shoes in the New Year," said Cullinan.
Read: Thando Thabethe in no rush to get married
Thando has also expressed great excitement for the new opportunity.
She said: "I'm beyond excited and honoured to host a daytime show next year. I've worked in the radio environment for almost seven years and hosting my own show has always been a goal of mine. I plan make it my best work yet."
Image credit: Supplied