Tweeps were left in shock this week when Isibaya's Mkabayi (played by Thembi Nyandeni) took that Tony Montana scene in Scarface a bit too far.
The gangster granny, AK47 in hand, took matters into her own hands when a group of hitmen tried to mess with her family.
And what happened next was straight out of a movie!
The epic scene resulted in Mkabayi trending, with Twitter users labelling her 'the Queen Don'.
Check out the crazy scene that got people talking...
READ: #Isibaya: Mkabayi is our very own Rambo
That definitely was an award-winning performance! And Tweeps agree...
When you realize you took Mkabayi's Tupperware and didn't return it. #Isibaya pic.twitter.com/pONmrvAu7w

— Pootie Tang (@Mdudemeister) January 14, 2016
When I grow up I want to be like Mkabayi 🔥🔥🔥😍❤ #Isibaya

— Klopp's daughter ♡ (@Londi_k) January 19, 2016
In other news, US rapper Mos Def dissed South Africa following his arrest in Cape Town for allegedly trying to use a "world passport" to leave the country. A world passport?!
He was not impressed with his arrest and the way he was treated, and with the help of Kanye West, he released a freestyle called 'No More Parties in SA'.
READ: Tweeps slam Mos Def's 'No More Parties in SA' lyrics
If he was looking for sympathy, he got none, SA tweeps were like…
Another week, another spicy appearance on social media by Pearl Thusi and Bonang Matheba.
Bonang finally responded to Pearl Thusi's shade by likening her to an old pair of leather shoes.
@bonang_m @EllaStemela @pearlthusi Yoh!! Here is Pearl !! *B's Old pair of Leather .. pic.twitter.com/qlpT27HHZ0

— #AnnualSummaChillOut (@Lfoza) January 18, 2016
Pearl didn't take B's comment lying down.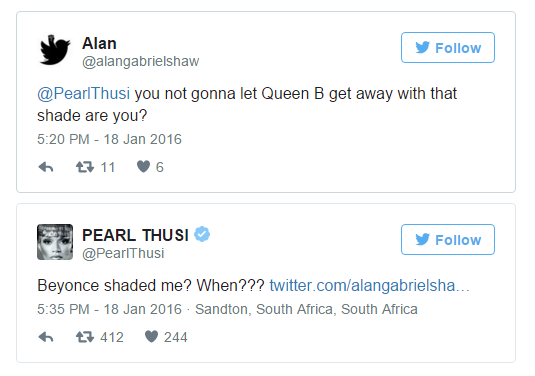 ​
 This beef is so High School ladies!
Image Credit: Meme
*Our weekly column, Time for Tea, reviews celebrity news-making headlines. So grab yourself a cuppa, and join the conversation!