Jesse Suntele, Sabelo Sibeko, and Hendrik Lombard are some of Gauteng's representatives for BET's Top Actor Africa, which is hosted by Zikhona Sodlaka.
The trio are gunning for the title of the reality show, with a chance to skyrocket their careers on the line.
Twelve contestants are vying for the title, with the dozen made up of aspiring stars from across Africa.
Altovise Lawrence won the first season of the competition and has already worked on a Hollywood film, so Top Actor really has the ability to open up many doors.
Here's what the trio from Season Two had to say about all things acting...
Why acting?
Jesse Suntele: (Laughs) Why not acting? While other people choose one career, I get to choose them all. I get to be anyone and anything I want to be. I get to walk in everyone's shoes and tell their stories, and mine.
Sabelo Sibeko: Acting for me is a rare talent that has always been closest to my personality and I took this opportunity to unleash a part of me I feel people will grow to love and watch growth in me going forward.
Hendrik Lombard: I chose acting because I can express and explore different types of personalities.
What excites you most about Top Actor Africa?
JS: When I think about it, a lot of the people around us think that starting a career overseas, especially in America, is dreaming way too big. And it's just that, a dream. But platforms such as Top Actor show us that those kinds of dreams are reachable and that help is out there. In essence, these kinds of opportunities fill me with hope.
SS: The anxiety and feeling of the unknown, and the challenges the competition hands us.
HL: The fact that it's a big platform to kickstart my career.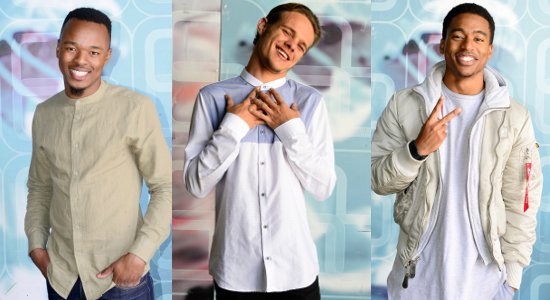 From left to right: Sabelo Sibeko, Hendrik Lombard, and Jesse Suntele
What is your plan should you not win Top Actor Africa?
JS: Should I NOT win? Wow, that's a different question - everyone wants to know what you'd do if you won. Well, if I don't win, it's not a train smash to me, as much as I'd love the prizes and opportunity that comes with winning, I'll know it just wasn't meant for me and that it was someone else's time. Of course it'll be a blow to any man, losing is never easy, but I'll be right back on the horse the next day chasing the next chance I get and grabbing the next opportunity with both hands. Also, Top Actor is not just a chance for the winner to propel his or her career, but for all of the contestants it's a platform for us to showcase our talents to whoever is watching. So I will also use the traction of the show to open new doors and take my career to the next step.
SS: I would like to continue by testing more opportunities through the exposure I will get from Top Actor Africa. I will venture in acting, presenting, and radio, as these are all the components that will broaden Sabelo as a whole.
HL: If I don't win, I'll be getting into acting at full force.
Who is your biggest influence in the acting world?
JS: At the moment, I really look up to Michael B Jordan because I believe we fit similar character briefs at first glance, but he has been able to play so many different types of people and very different types of films. I would like to be the kind of actor that isn't type-cast to a certain role all the time, so he is a good example for me.
SS: It has to be Denzel Washington.
HL: I am my biggest influence in this industry.
Which movie from the past do you wish you could have acted in and why?
JS: I wish I could have acted in the recently released Creed, but also I've always wanted to be a hero (laughs), so the Avengers franchise has been enticing to me. 
SS: Long Walk To Freedom. The reason being I loved history in High School and aspired to be one of the great leaders that changed the system back in Apartheid. A role of any of the leaders would be the ultimate satisfaction.
HL: I would have liked to do Pirates Of The Caribbean.
You can catch Top Actor every Tuesday at 19h30 on BET
Image Credits: Supplied