If there's one thing we really enjoy about the world of entertainment it is the weekly viral videos and memes we come across each day.
An awful day at work or school could easily turn into a joyous one whilst you scroll through your social media account.
From the woman who burned her pubic hairs in the hopes of winning a dance competition to those hilarious memes shared almost everywhere, we bring your our favourites from this week.
That depressing Clientele ad
Speaking of memes, we couldn't stop laughing at this Clientele meme of mother and son Desmond and Lillian Dube.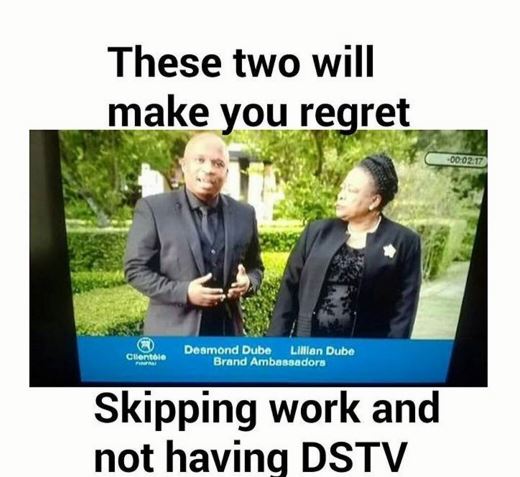 It's true, watching these two every other hour on SABC's channels can be depressing. Although it's crucial to have one, no one wants to be reminded of funeral cover every hour!
So if you're thinking of bunking school or calling in sick from work, just remember that you're settling for a depressing day of potentially watching these two remind you about death and the high cost of funerals.
It's interesting to see that Desmond Dube also saw humour in this and saw an opportunity to remind people to send that sms.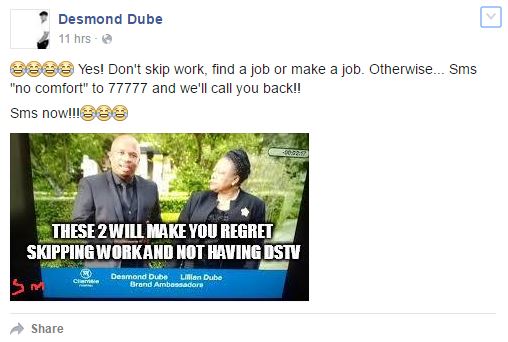 When making your own voicemail was a creative process
Back to our viral videos of the week...
At some point between the 90s and early 2000s, creating your own voicemail was an exciting part of owning a cell phone. The creative ideas you thought of in delivering an epic voicemail kind of made you believe that deep inside you were a creative genius.
You have to admit, some of you used to do this when making a voicemail back in the day.
.
On your marks... get set... fire... and fall! 
Kids, drugs are bad for you, ok? No, but seriously, what on earth happened to this girl?
When Khumbulekhaya realises that some people actually don't miss home
This woman kept it moving when she told a relative that she's not going home and that she'd rather die in Gauteng ha monate jwang!
 Image Credit: Facebook