ZAlebs will be winding down the Christmas period with some top 5 lists recounting the most iconic people and works in the entertainment industry. Today, we kick off an album of the year countdown. It's wonderful that the album that kicks off our top 5 countdown is the self titled album of a band with a pretty short name- Paramore, by Paramore. Here's why we think it was the 5th best album in 2013.
By Tinashe Venge
You can't say anything about Paramore without hearing about the Farro brothers in response. Yes they left the band. Yes it's been a difficult period. "New Album You Say? What will they do without the Farros? Will they ever be as good as the Multi Grammy Award Winning act they were with the Farro Brothers?" My answer is no.
They're even better. A redefined, more mature atmosphere is ever-present on this album. The band boasts musical versatility that wasn't as profound in previous albums; Hayley Williams takes even greater strides in exhibiting her vocal prowess. It all sounds- Well- Good! So much so that you have to ask, "Was the Farro incident a blessing in disguise?"
I know everyone is tired of debating the brothers' departure, and this isn't a pop at them, but Paramore sounds more liberated and can now show off their considerable talent in more than one aural dimension.
Instead of living in the shadows of an incident that could tear a band apart, they've redefined just what Paramore is as a musical identity, and added further chapters to their musical legacy.
The album is dominated by the recurring theme of growing up. While there's plenty of 'Vintage Paramore', there are also many other tracks that wouldn't be heard on previous albums. The band takes many more risks than they would have on Riot and Brand New Eyes.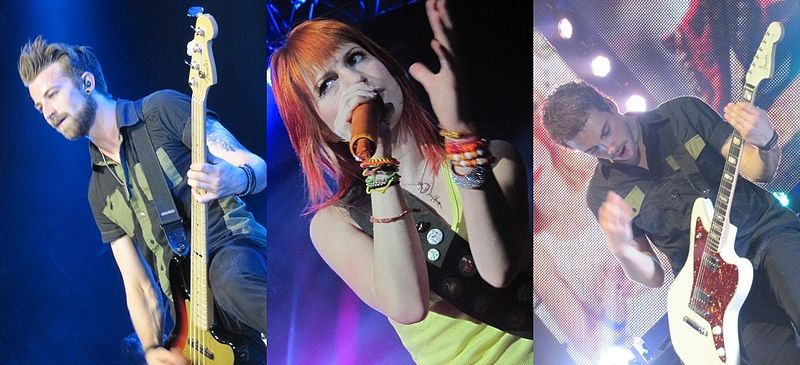 On Paramore they push their talents to new limits. There are hints of No Doubt influence in a few tracks; There are mild Gospel influences in Ain't it Fun's choral breakdown; The opening track, Fast in My Car even flaunts some Indie-esque thumping drum patterns and shredded guitar riffs.
My two highlights are the interludes, and the track '(One of those) Crazy Girls' The latter, a brilliant tongue-in-cheek song about 'Crazy Girls' in (typically) teenage relationships. From Hayley's whimsically sung verses, to the band's charming melodies and clever lyrics. It's an excellent blend and I hope we see it released as a single.
The Interludes provide a refreshing break from the action; serenading listeners with stripped down uke strums and cute Hayley verses. They also epitomize my thoughts and feelings on Hayley Williams on this album.
It's never fair for one member of any band to grab all the attention, but I'd be doing her great disservice by not giving her some individual plaudits. She shows so many different sides of her vocal talents on this album, from powerful belters to chilling falsettos; from delightful harmonies to emphatic leads. Hayley Williams is an incredible singer, and should be recognized as one of the best female vocalists in mainstream music.
Sometimes you can't win with fans in this emo-punk-pop niche. Stay too much the same and you're dubbed "Boring." Change too much and fans say you've "sold out" There are a few bands, however, that not only bridge the gap between the two extremes, but marry them into success.
Paramore, in my opinion, have done exactly that. Farro brothers or not, Paramore are back, and better than ever.
(Image Credit: Wikipedia Commons)