In tinsel town Hollywood, there's never really such a thing as "loosing too much weight" well, unless you're borderline skin and bones, but when you were previously a big girl like Jennifer Hudson, losing so much weight can be viewed as the ultimate achievement for your career.  Recently American blogger Necole Bitchie posted several pictures of "J- Hud" with her puny waste looking somewhat fabulously skinny.  Comments obviously varied as some of her fans thought that the Grammy winner was losing too much weight but when she was big, the same people thought she was overweight.  The poor lady obviously can't catch a break.
It's also been interesting to hear how her weight loss has even affected her talent as a singer.  We asked a few people at ZAlebs HQ about their opinions of her weight loss and one comment that really caught our attention was that since the shedding of her weight Jennifer's strong voice has lost its golden touch.
Credit: NecoleBitchie.com
"When Jennifer was a big girl, her voice was demanding, as a big girl I believe she carried a sense of confidence and bravado , now she's just like any other skinny girl on TV and magazines." said Anonymous.
Others felt as though Jennifer has "betrayed" the big girls club, ok maybe the word betray is a bit of a strong word but from these comments one can clearly see that some ladies aren't impressed with the new Hudson image.  Remember how many big girls were not impressed with Missy Elliot's weight loss too?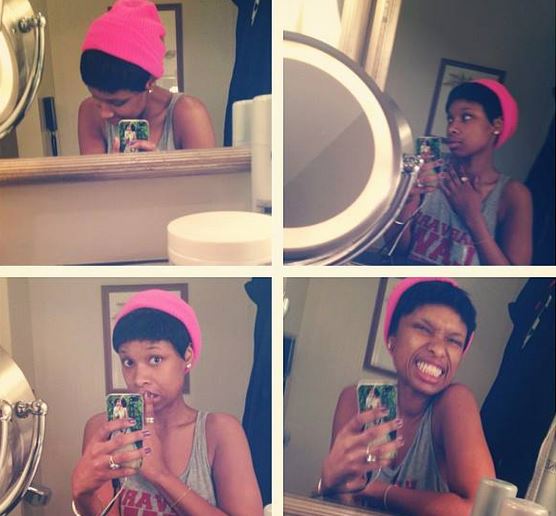 Credit: Facebook/Jennifer Hudson
Our only complaint about her new look is that it has unfortunately made her head look alarmingly big (no disrespect to the J-Hud fans out there) But in Jennifer's defence we obviously need to realise that she works in a fast paced industry where your body image is the end-all and be-all.  Looking good in Hollywood is the golden key to your hustle, besides Jennifer has a new movie she's currently filming titled "The Inevitable Defeat of Mister & Pete" which involves a drug addict played by Hudson. See? your body image is your hustle in these Hollywood streets.
In your opinion, is Jennifer losing too much weight or are we just indecisive about how she should look?