AKA has gone on another Twitter rant and this time he has gone after SA rappers! AKA, who is currently in Nigeria to perform at Industry Nites, took to the social networking site to tell Mzansi's MCs what he thinks of them.
He first tweeted: "You SA rap ni**as is local." We assume that's because he's in Nigeria now? Anyway, he went on: "Ni**as wanna flex but they don't even travel ..."
The nine-time SA Hip Hip Awards winner went on to brag about his band. He tweeted: "My BAND is flying out here tomorrow to kill the show on Wednesday ... 80% of you ni**as can't even put a band together for DBN July."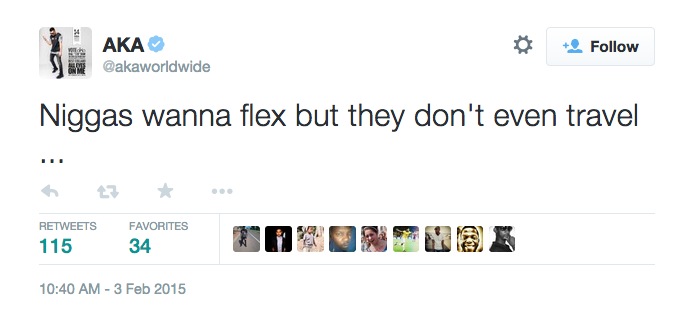 He added: "Sit in silence while I talk my sh*t ... Coz I'm sh***ing on you long distance ... You think you gonna get rich off JHB  CPT  DBN?"
AKA, whose real name is Kiernan Forbes, also doesn't want to be compared to SA rappers. He made that perfcetly clear by tweeting: "DONT EVER COMPARE ME TO ANOTHER SA RAPPER EVER AGAIN."
Well then! When he hasn't been ranting, the All Eyes on Me hit-maker has also been hanging out out with Nigerian superstars including the likes of Ice Prince and Burna Boy. He told Pulse TV Nigeria that he's in the country to work with the right people. "I know I've got a great fan base here. I'm touching base with the fans and also making sure that I get in studio and put in work with the right artists."
It's amazing how an innocent trip to Nigeria can "change" a person. If you were an SA rapper, would you be taking these comments seriously?