Christmas cards, who still sends them? After all they just gather up dust in your mother's cabinets until it's time for them to make another grand appearance around Christmas time. Well you'd be surprised to find out that there are some celebrities who still enjoy the traditional ritual of sending out Christmas cards to family and friends, here are a few rather awkward celebrity Christmas cards that have been issued out for the year 2013
Our number one Christmas card jokester is non-other than the twerkster herself Miley Cyrus who ended off this year by flashing more skin for the camera.  Miley decided it be thoughtful of her to show us her itty bitty breasts, photo shopped with the words "Merry Christmas" over them.  Real classy Miley, well done! As if we haven't seen enough of her body this year.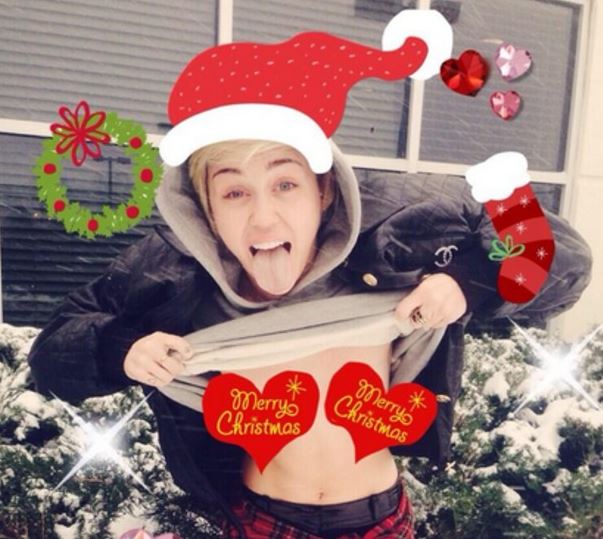 Number two is the family we'd all love to hate or rather be, the Kardashians of course.The queens of drama traditionally dress to the nines every year around Christmas to pose for a family Christmas photo. But this year's photo looks a bit odd. The family members are scattered across a clustered scene that looks like a museum/casino.  It kind of looks like it was inspired by ongoing rumours of celebrities being a part of the illuminati, but we won't go there for the sake of peace.

Ellen DeGeneres and Portia de Rossi sit comfortably at our number three spot with their Bound 2 Christmas card, inspired by Kanye West's latest video for his single, Bound 2.  On this Christmas card we see a topless Portia posing as Kim Kardashian and obviously Ellen takes on the role as Kanye West.  We kind of thought this was cute.  The card has a message that reads "Bound for a Merry Christmas Love Ellen and Portia" ncaaaw.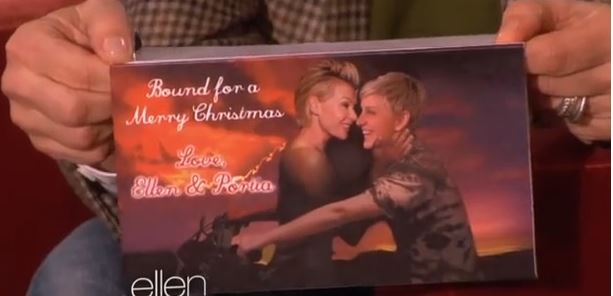 Joe Jonas is our number four.  We honestly didn't know he had a feline fetish as he took this horrible photo with a cat wearing a Santa hat.  This photo is just beyond awkward and that jersey didn't do him any justice either.  The cat has a double feature on the Christmas card, placed also at the top left hand corner of the card for all to see.  Joe, I think you just lost a little respect from us with this one.