If you were one of the lucky few who got to attend Vodacom In the City concert at Mary Fitzgerald's square last year, then you will know exactly what kind of crowd and atmosphere was in store for you at the Bastille concert this past weekend. If you weren't able to make this one, allow me to fill you in on the amazingness –Yes I just made up that word!
Picture Emmerentia dam, filled with literally thousands of people. Picnic baskets, beer tents, food stalls and beach wear were all everpresents. We may have not been at the beach but the blazing sun of Johannesburg had us in everything from shorty shorts on girls and no shirts at all on the gents.
I arrived- after embarking on the longest walk ever- and got myself settled with a chilled drink while bopping my head to the sounds of Mathew Mole. He's impressive live- he is also the first South African artist to enter iTunes at number one, in case you didn't know.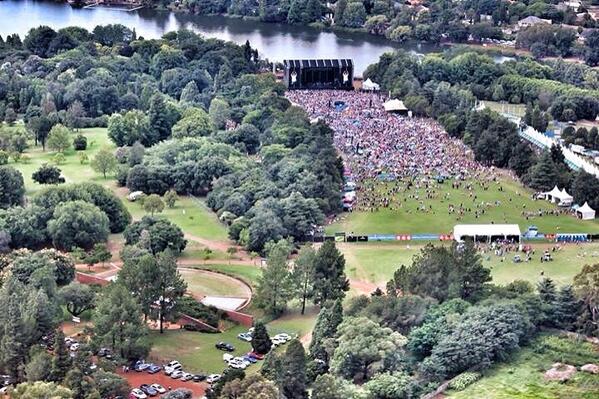 I felt that things could only get better from here, and I was far from disappointed. Beatenburg made the hairs on the back of my arms stand up. I'm not just saying that, they were fantastic and had me. Their vibe is amazing, especially when you take in the African feel of it. Not only that, those three boys are cute beyond words.
Throughout the intermissions between each band, I strolled around the gardens talking to random people who were excited to be a part of this experience. All ages were present for the gig, from the adorably young, to the gracefully old. It was an atmosphere everyone could relate to.
There was a constant beating rhythm in the ground from the stomping of our feet- an ambience that was matched by the clear blue skies and amber sun. Our spirits where only just beginning to peak knowing that Bastille was a mere few hours away.
Bed on bricks were next to perform, unfortunately, the weather decided to intervene and shower us with a storm during their performance. Thankfully, it was fleeting, It did not deter our mood as we stood there, soaked to the bone, screaming and shouting our lungs out until, finally, the moment we had been waiting for arrived. BASTILLE WAS ON STAGE. LIVE.

The energy was insane as they opened with their smash hit, Bad Blood. They belted out the tunes that have made Bastille fan favorites including the track that dominated the charts for much of 2013, Pompeii. We were even afforded sneak peeks to material we have yet to hear on the regular. Their vibe was intoxicating and indescribable, I am literally struggling to put into words how amazing it was. The lead singer, Dan Smith, whose parents are of South African origin, was the perfect front man for the day. Perfect vocals, stunning stage presence and a period in which he walked through the crowd- and surely made many people's day- all combined to make the performance extra special.
All in all it was an excellent performance from all the bands who participated. Nokia and Seed Experiences sure know how to host a gig and a massive kudos to our good friends over at Heineken for keeping us refreshed through out the day
My two highlights? A tune called Pluto by local band, Beatenburg as well as my personal favorite from the stunning Bastille, Icarus.
If you were at the concert, let us know about your experience in the comments section below- or send us pictures on Facebook and Twitter!
Until next time all, xoxo 
(Image Credit: Twitter.com)