With such a successful reputation as a music producer and artist, as well as a single that has us all proclaiming that we're in love with ugogo, you'd expect DJ Cleo to be one of those celebrities with an expensive taste in food. Seeing that some of us have now become "foodies," posting all kinds of mouth-watering pictures of our dishes (some we can't even pronounce,) Cleo has taken a more humble foodie-approach. The musical personality revealed to the public that he still enjoys the simpler things in life, which includes a simple dish of pap and scrambled eggs.
Not just any pap either! You know that type of pap that comes with iskhokho, then you mash it up together with your eggs then you add mayonnaise to finish it off? Heaven on a plate!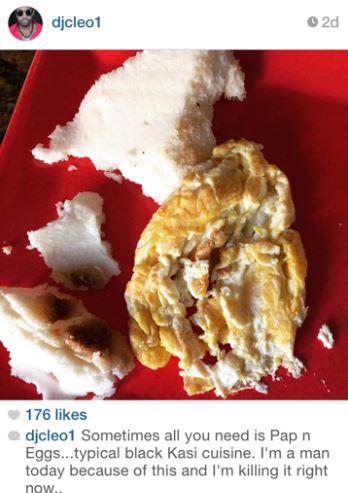 Cleo, thanks for reminding us how it's the simple things in life that matter, and one of those things is eggs with ipapa ne skhokho.
Look out for the uGogo music video set to come out this week.