We all know who has won 2014 in terms of local hip hop (Cassper Nyovest, Nyovest Nyovest Nyovest Nyovest) but the international hip hop circuit has been just as interesting to watch. The BET hip hop awards took place last night to honour some of the finest representatives in the game, and if there was any doubt over who was running the international hip hop game at the moment, it was firmly quashed by the end of the night. All I'm going to say is "MuztardOnDaBeatHo!"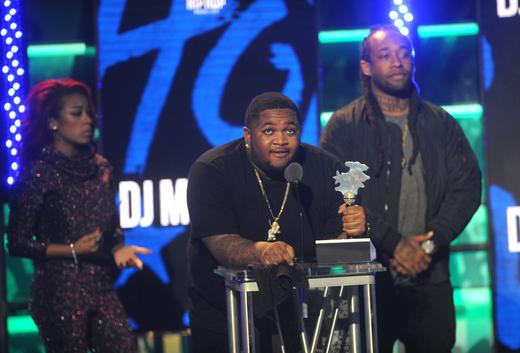 If you don't understand that last phrase, I'm talking about hip hop DJ and producer, DJ Mustard, whose catch phrase can be heard on some of the biggest hip hop tracks to come out of the USA this year. The likes of Chris Brown's Show Me and Trey Songz' Nana are some good examples. 
DJ Mustard walked away with four awards last night, including the highly coveted MVP of the Year award. Drake and Kendrick Lamar, whose competition continues to grow, both scooped two awards each while my boy Kanye walked away with this year's Best Live Performer award.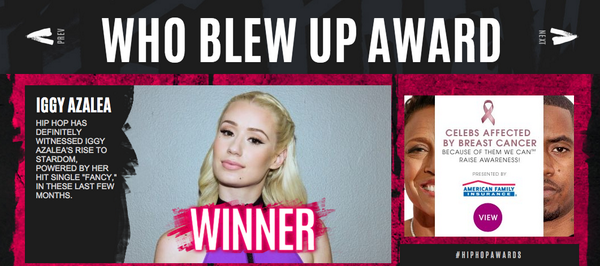 My current guilty pleasure, Iggy Azalea, rightfully picked up the Who Blew Up award and Drake was named as The People's Champ. All in all there weren't too many surprises. 
In terms of performances, Common and Jay Electronica's tribute to Mike Brown has been trending since last night, while Queen Latifah, Brandy, MC Lyte and Yo-Yo's collaboration was a fun throwback.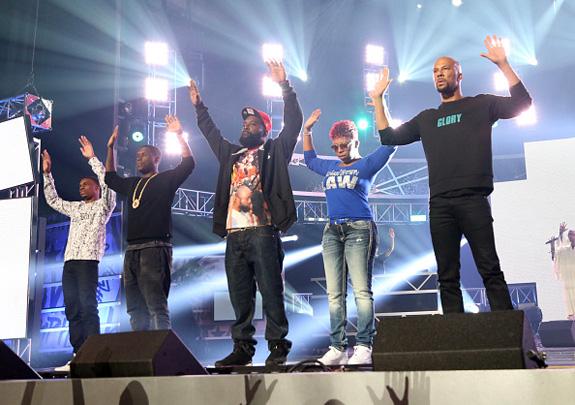 I'd like to talk about the performances a little more, but we'll all have to wait until the BET Awards are televised in South Africa on Friday the 17th of October. If you didn't already know, channel 135 is now BET on DSTV and you can catch the BET Hip Hop Awards on Friday at 23:00 CAT. 
Here is a full list of all the winners from last night's BET Hip Hop Awards
Best Hip Hop Video
Drake – "Worst Behavior"
Best Collabo, Duo or Group
YG f/ Jeezy & Rich Homie Quan – "My Hitta"
Best Live Performer
Kanye West
Lyricist of the Year
Kendrick Lamar
Video Director of the Year
Hype Williams
DJ of the Year
DJ Mustard
Producer of the Year
DJ Mustard
MVP of the Year
DJ Mustard
Track of the Year
"My Hitta" – Produced by DJ Mustard (YG f/ Jeezy & Rich Homie Quan)
Album of the Year
Drake – "Nothing Was The Same"
Who Blew Up Award
Iggy Azalea
Hustler of the Year
Dr. Dre
Made-You-Look Award (Best Hip Hop Style)
Nicki Minaj
Best Hip Hop Online Site
Best Club Banger
Future f/ Pharrell, Pusha T & Casino – "Move That Doh" (Produced by Mike WiLL Made It)
Best Mixtape
Wiz Khalifa – "28 Grams"
Sweet 16: Best Featured Verse
Kendrick Lamar – "Control" (Big Sean f/ Kendrick Lamar & Jay Electronica)
Impact Track
Common f/ Vince Staples – "Kingdom"
People's Champ Award
Drake – "Worst Behavior"