Dr Malinga is grabbing any opportunities that come his way and hey you can't fault the guy, he certainly makes the most of them. Now Malinga has decided to expand his reach and talents by entering the world of acting. The fly-kicking dancer and singer has landed himself a fulltime acting role on Gauteng Maboneng, a sitcom on SABC 2.
He says having full time employment is foreign for an individual who is used to working in bursts of two to three hours at a time.
"I was never used to working a 7am call in time to 7pm job and that is acting. I have never ever in my life spent all those hours in one commitment."
"At home when I am not around my wife always says ngisemsebenzini (I'm at work) and I correct her, its acting! I feel like I am working at a firm, ziyabuya (it's hard) shame," he chuckles. It must be tricky moving from doing his own thing whenever he wants, to having to work against the demands of a director, manager and other members of a film crew. 
Originating from a background with less opportunities, Malinga believes that anything you need to do in life can be achieved and English does not need to be a stumbling block in your life.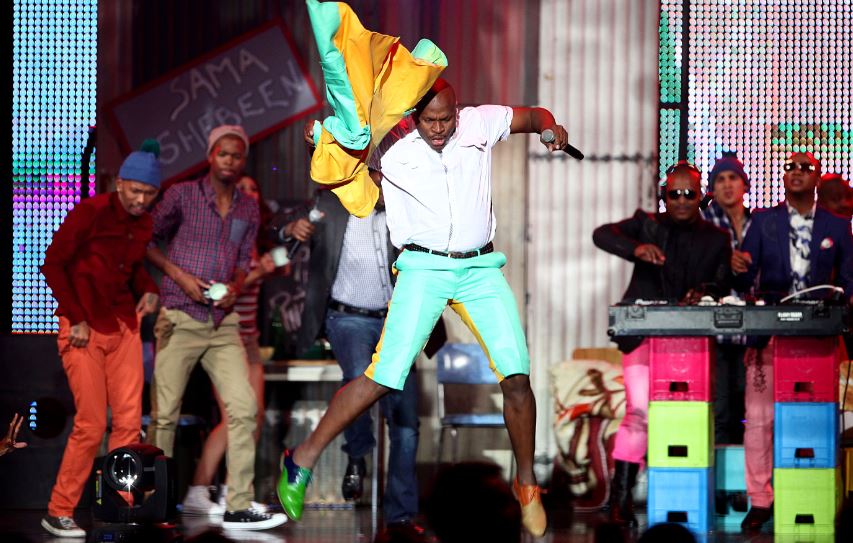 "Knowing English doesn't  make you successful, knowing how to say 'go and wash dishes' doesn't make you better.
"I don't remember anyone being employed because they know how to say 'go and wash dishes'," he repeats.
"You are able to do anything you want, my English is not perfect, but I auditioned and I got the role to act."
Malinga says that acting isn't easy for him and with the help of his coach and supportive cast crew, he is able to the art of acting. Malinga also went far as thanking his wife for the support.
"To act you need skills, I do it naturally but I need help also. I have a coach teaching me to acquire the skills needed, it's not easy but I have many hands helping me."
"My wife helps narrate my scripts for me at night and also ensure that I understand my scripts."
Credit Image:Gallo Images.Dr Malinga