Ok everybody keep calm, mother nature was simply doing a little twerk for us no need to panic, we hope all our readers are ok, a little shaken but ok.  As you may all know the Southern hemisphere trembled for a few minutes (longer than what us South African's are used to) and of course social media platforms had a field day with the jokes. Here are our top favourite tweets and Facebook comments that had us rolling on the floor.  You guys have absolutely no chill.
This Facebook comment moments after the tremor had us in absolute stitches but we agree with Tshepo, the girl who stood naked infront of Tata's statue is making us all feel the wrath of Tata Madiba's fury! Thanks a lot chick.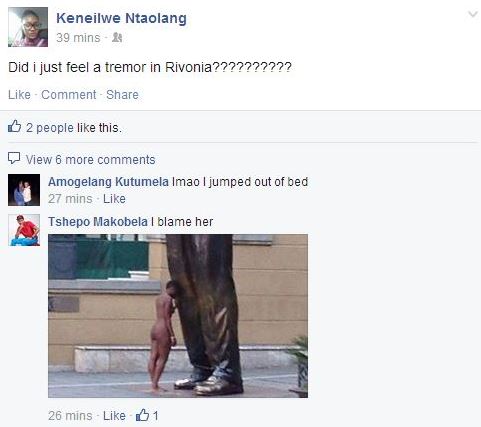 Then there were those who wanted to be sexy whilst we were in the midst of a mild earthquake, its interesting to see that being sexy has no boundaries, you could be falling out of a helicopter and still worry about how sexy your fall is going to be.

Thandiswa Mazwai simply asked what could've caused such an earthquake a silly question but of course Twitter has an answer for everything.  

This earth tremor was also the perfect opportunity for brands to hop onto the bandwagon before the hype surrounding the tremor died down.  Amstel made sure that they had their own two cents to add onto the trend.  Nice one Amstel SA, even Amanda du-Pont had to back up your statement.

According to reports the tremor was felt in Durban, Johannesburg, Rustenburg and even Botswana and as usual Cape Town missed out on the tremor scare.

We guess mother nature is also enjoying Jason De Rulo's single.  Mother nature you know what to do with that big fat booty - Wiggle, Wiggle, Wiggle.

However when all is said and done and we've laughed all the earth tremor jokes away, Hlubi Mboya had to bring us back to earth and make us realise that mother nature is a force to be reckon with.