Change is good, right? But not if you're a Vuzu fan. 
A few weeks ago the channel introduced a new line-up of presenters, and let go of Denise Zimba and Shelton Forbes. Some of the youth channel's new faces include Nomuzi Mabena and DJ Speedsta. 
Fans watched as the newbies made their debut on the channel, and while some have vowed to give them a chance, others are not convinced. 
Who ever chooses y'all's presenters has such a bad bad choice this time😱😩👎 #VEntertainment

— Sanele Acquisto (@saneleacquisto1) April 25, 2016
Y'all Gave us Dash and took away Denise... SMH @vuzutv #Ventertainment

— N.A.M.E.T.S.O (@MsNamzieMol) April 25, 2016
#VEntertainment is so pap without Denise, my heart still aches for her

— AXL (@KING_KRUGER) April 21, 2016
The one time I watch TV (#VEntertainment ) I'm subjected to a presenter who makes paint drying look like an exciting hobby *sigh*

— #CaterForAll (@Slayvuyile) April 21, 2016
These new presenters though. Ae aikhona ngeke sbali. #VEntertainment

— I'am Orphic (@LeePhyStNneney) April 25, 2016
#VEntertainment made a wrong turn with these new presenters thethani inyani

— Viwe Sobudula (@vsobudula) April 21, 2016
The old presenters of this show were doing a great job man but now ☹ better watch nyan nyan #VEntertainment

— Hootas Mbatha (@Mzwa_Hootas) April 20, 2016
You get the point, right? Okay, here are some comments left on the channel's Instagram page: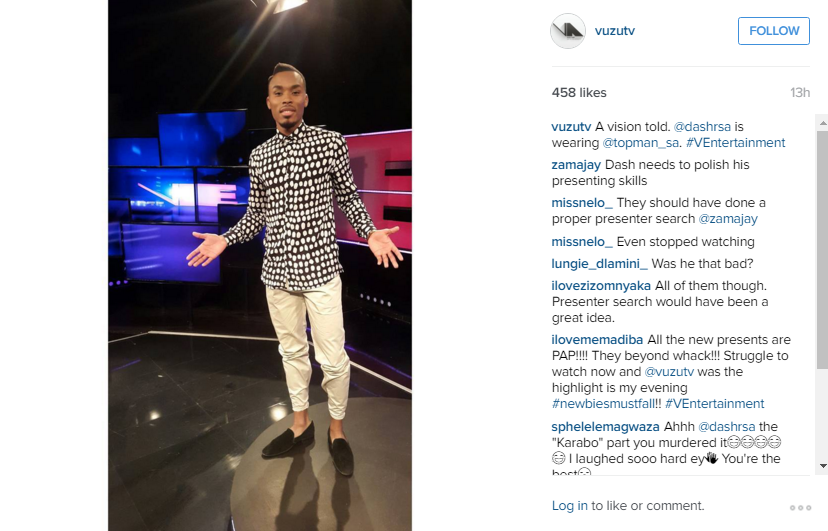 One fan wrote: "All the new presenters are pap. They are beyond whack. Struggle to watch now and @vuzutv was the highlight of my evening." 
Meanwhile, former presenter Denise Zimba has revealed the real reason why she left the channel. In a recent interview with Arye Kellman on CliffCentral, Denise said that although she was bringing in ratings for the company, she didn't feel like they had her best interests at heart. She added that she received no recognition. Eish!
Image credit: Instagram