The day is finally here. Cosmopolitan's Sexiest man of 2015 will officially be announced tonight at the Sands in Sandton.
As we count down the hours to this ever so hot night we couldn't help but wonder which Alfa male amongst these sizzling men will be taking the title.
Let's be honest, it is a bit unfair for Brutal Fruit and Cosmopolitan to make us vote for only one guy, how on earth are ladies and some gentlemen supposed to make such a painful decision amidst all of this sexiness?
But for us it wasn't such a hard nut to crack as we already had our eyes on one particular gentleman who we have a feeling will win the title of Cosmopolitan's sexiest man, 2015.
Kabelo Thathe is one of the candidates, and from the response and support he's been receiving from the public we would love to bet R1000 that he'll win; but since we are journalists, and don't have that kind of money... we will instead issue a public apology to the nation if he loses.
So why do we think Kabelo is going to win tonight?
Well firstly…duh….this man epitomizes the word sexy. We've never met him before, but we have a feeling that he's the type of man who commands attention when stepping into a room without even asking for it.
Secondly, he has a great celebrity support structure, especially considering that he's not a celebrity himself.
Since the competition began Kabelo has had the support of the likes of Somizi, Lerato Kganyago and Mo-T from MiCaSa.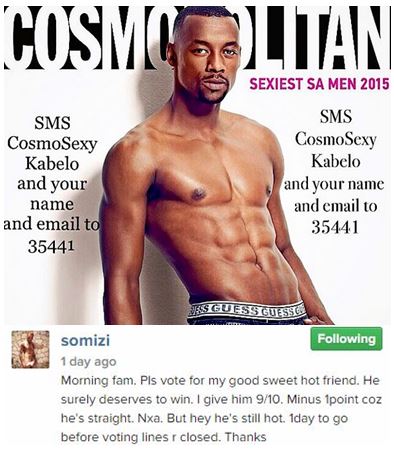 Somizi's caption was hilarious, shame on him subtracting a point just because of his sexuality.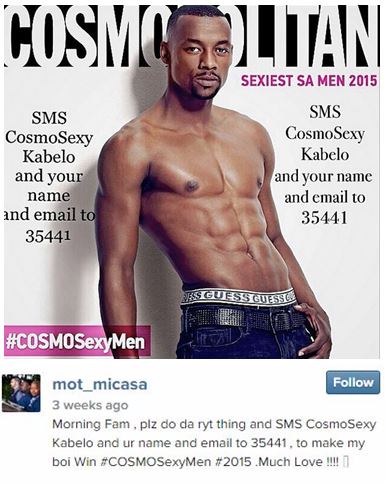 MiCaSa band member Mo-T is also 100% behind his friend.
We did a bit of digging on Kabelo and found out that his wife is currently pregnant with their first child. Even though fatherhood hasn't officially begun for Kabelo, we have a feeling that he will be a great dad, and we all know how women love a man who knows how to take care of his babies.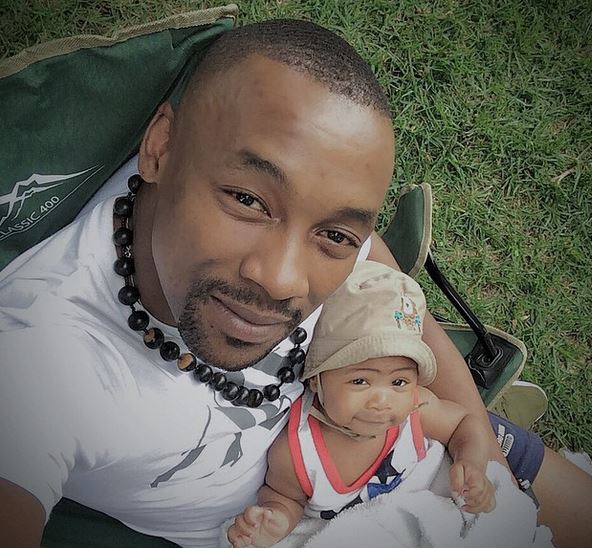 Goodluck to all the sexy contenders for tonight and if Kabelo doesn't win, then, like we said, we will issue a public apology!