It was March 1997 when rapper Notorious B.I.G dropped his Tupac diss What's Beef, a very controversial song that fuelled the flames of the East Coast vs West Coast feud. This was, of course, the feud that brought about an ominous cloud of segregation above the golden era of hip-hop.
Intended as a retort to Shakur's Hit Em Up, the track was released at a very unfortunate time, two weeks after Biggie's fatal shooting in Los Angeles and six months after Tupac was gunned down in the Las Vegas strip. These were tough times for rappers. Times when a punchline could get you killed and emcees had to watch what they said. *Pours out a little liquor*
Eighteen years later, rap beef has  become a seemingly petty, watered down slapping contest. Now I am in no way advocating black on black violence. I'm not advocating any violence at all. I'm not a fighter. I'm just someone who likes to get their money's worth. I mean if you were to book front row seats to a heavyweight title boxing match, you'd expect to see some fists flying and a couple of bruises right? Right?
Just in case anyone thought Bobby Schmurda was frontin in his songs lol pic.twitter.com/6ln9XBh8N7

— Because I'm a Guy (@CauseWereGuys) December 19, 2014
This is where the problem lies with today's hip-hop culture. Rappers struggle to differentiate between 'keepin it real' and 'keepin it honest'. See, my understanding of 'keepin' it real' is when Bobby Schmurda rapped about "selling crack since like the 5th grade..." and then got convicted with no bail for weapons and narcotics charges "about a week ago".
4 days til Bobby Schmurda can answer the question "When did you get locked up?" with "About a week agooooo!" pic.twitter.com/9kkmLusQ2g

— Cruz Buchanan (@Cruz_Buchanan) December 21, 2014
I mean his life is pretty much over, but he kept it real though. He may be doing the schmoney dance in a shower full of dudes for the next quarter century, but my man kept it 100! And I respect that.
On the other side of the spectrum we have the rappers who keep it honest. The J.Coles and Childish Gambinos, whose music we can play in the car on the way to church with grandma. They're relatable to hip-hop heads who went to racially integrated schools and played hockey matches on Saturday mornings. These rappers are safe.
Recently, there has been a number of subliminal shots fired between Young Money label mates Tyga and Drake. The reason for this feud is unclear, but Tyga has mentioned in the past that he doesn't get along with Drake or Nicki Minaj and they only work together because they are part of the same roster.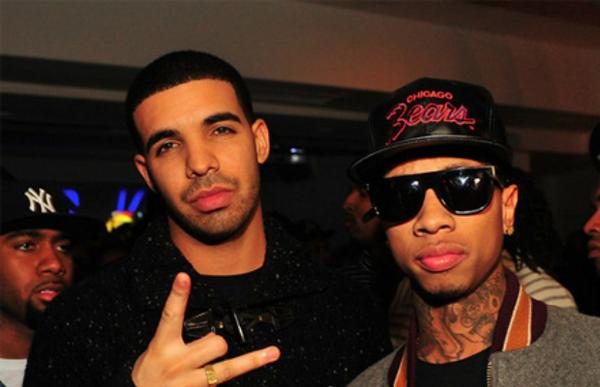 Now, I am stranger to office disputes, everyone has that one person they don't really like at work. And that's okay, because you generally ignore each other until 4:30pm. In hip-hop, however, people tend to get vocal about how they really feel about someone and nobody talks more smack than a rapper.
As mentioned in my previous article, Mr Graham recently dropped a mixtape album and on it there is a track that stood out to me as a subliminal diss to Tyga called 6PM in New York where Drizzy spits
'... I heard a lil lil homie talking reckless in Vibe That's quite a platform you chose, you shoulda kept it inside. Oh you tried It's so childish calling my name on the world stage, You need to act your age and not your girl's age.'
Ouch.
Had this been back in the 90's somebody would have to go. But this is YMCMB and the toughest thing in that entourage is trying to read Young Thug's rhyme book.
The question now is will T-Raww keep it real and get into fisticuffs with the self-proclaimed 6 God, or will he keep it honest and admit his relationship with Kim Kardashian's underage sister?
For the sake of entertainment, I hope they just keep the beef on wax.
Where to find Mfingo Ntaka, the blogger behind this article 
Tanduxolo Mfingo Ntaka is a British educated entrepreneur and I.T. guru. He likes reading, intellectual debates and Bacon. This is his first  article as ZAlebs Street Blogger; look out for the next one coming up very soon! In the meantime, follow him on Twitter @NtakaTanduxolo