The ALS ice bucket challenge involves recording yourself having ice cold water poured over your head and then posting it online. 
Once "icebucket-ed" the person then nominates a new challenger who can either accept (within 24-hours) and donate money to charity, or decline and donate a higher amount. 
The stunt, brainchild of Former Boston College baseball captain and ALS patient Pete Frates, is to raise awareness for the motor neuron disease.
Frates then challenged celebrities to take part which resulted in this viral online frenzy. 
Microsoft founder Bill Gates doused himself as well after being challenged by Facebook's Mark Zuckerberg. To name a few - they were joined by Billionairess Oprah Winfrey, footballer Cristiano Ronaldo, pop sensation Justin Bieber and controversial actor Charlie Sheen.
SABC 3's Expresso Show presenter Katlego Maboe posted a video of himself participating in the stunt and dedicated this to his sister who was diagnosed with a motor neuron disease. 
Actor and model Masego "Maps" Maponyane also posted a video and in turn challenged Bonang Matheba, Boity Thulo and Sports Minister Fikile Mbalula. 
​
Gareth Cliff challenged Charlize Theron and Trevor Noah via Twitter after his share of the challenge.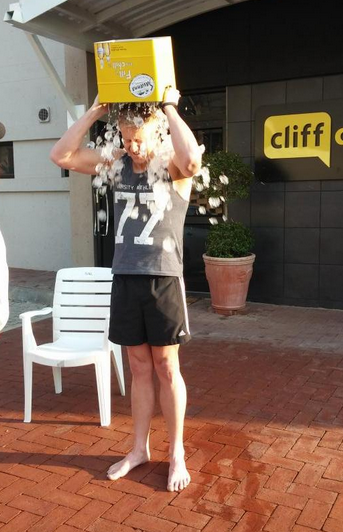 ​
5fm DJ Poppy Ntshongwana also accepted the challenge.