Last week we interviewed the dashing Lunga Shabalala about his new show Man Cave alongside the gorgeous Janez Vermeiran. After our interview, the ZAlebs street team was invited to the official launch of the show which took place at Soweto's popular shisa nyama spot Chaf Pozi.
Janez Vermeiren and Lunga Shabalala were our host for the day as the two alpha males introduced us to some rather manly activities like bungee jumping, even though half of the men who were there opted out of jumping from the Sowetan Towers (Chicken much?).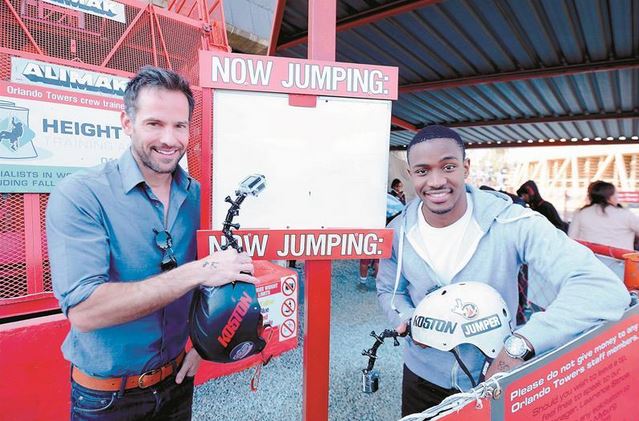 One thing we really appreciated about this launch was the amount of women who swooned everytime Lunga and Janez were in sight it was quite hilarious, shame some of the men at the event felt a little left out.  Don't worry guys the sooner you watch Man Cave the better your chances will be with the ladies.
It was also interesting to see how well Janez and Lunga gel together as hosts you would think their male ego's would take over at some point but both gentlemen were as professional as can be.
If you're still wondering what Man Cave is about, wonder no more.  The show is basically an ultimate man guide how to become the ultimate alpha male as both hosts give male viewers insight on such things like fast cars, gorgeous women, adrenaline packed sports,health, gadgets and other finer things in life.
Man Cave officially launches tomorrow (6 August) on SABC 3. We can't help but wonder if the guys will take off their shirts on the first show, we know how some of you ladies would love that.  Now don't get us wrong the last thing we'd want is for Lunga and Janez to think we only view them as pieces of meat waiting to be devoured but have you seen how delicous those two look without their shirts on?  Lord have mercy!