Justin Bieber and rapper Ludacris have a lot more in common than you might think.  Besides them collaborating in a song back in the day when Justin could whip his hair back and forth they can also be credited for choosing the best ride or die girlfriends a world renowned celebrity could ask for.  
Just last week rumours were confirmed that Justin Bieber and Selena Gomez rekindled their romance after Bieber posted a personal picture of him and Gomez on Instagram. 
This came as a surprise to us because not too long ago a Brazilian prostitute sneakingly snapped a photo of the "Biebs" fast asleep after a rather active night together.  Then there was Ludacris who fathered a child with a woman that is actually not his fiancé – the beautiful Eudoxie, please don't ask us how you pronounce that name. 
ZAlebs has also identified one lady who deserves the ride or die stamp of approval – The one and only Minnie Dlamini AKA "intombi yom'zulu" (wait, does she still introduces herself like that when doing a link? Anyway, you might ask why Minnie? Well, it's the truth.
First off Minnie is dating a soccer star and ladies we all have an idea how difficult it is to date a celebrity let alone a national soccer player.  After a much publicized relationship and an alleged "break-up" which was neither confirmed by both parties.   It's a no brainer that dating a fellow celebrity come's with its own drama and exertions which include the-wanna-be side-chicks, the naysayers and the constant expectation to be the perfect celebrity couple.  Like the ride or die she is Minnie doesn't seem to be dettered by any of those obstacles, her focus is fixed in insuring that she makes this one last, forever hopefully.  
With both their busy schedules and  everyone wanting a piece of their world, Minnie seems to know exactly what she'd like to reveal about her and Khune's relationship.  Recently she posted some vacation pictures of her and Khune overseas enjoying some well-deserved downtime in the U.K . She's quite aware of what she'd like to reveal about her relationship with the soccer star, not too much and not too little, just the right amount that has us yearning for more. By no means are we suggesting that women belong in the kitchen (Femenists we hope we made ourselves clear) but when looking at some of Minnie's pictures we sense that she has a liking in being the ordained wife material. Handy in the kitchen, yet right by her man in full support when in public.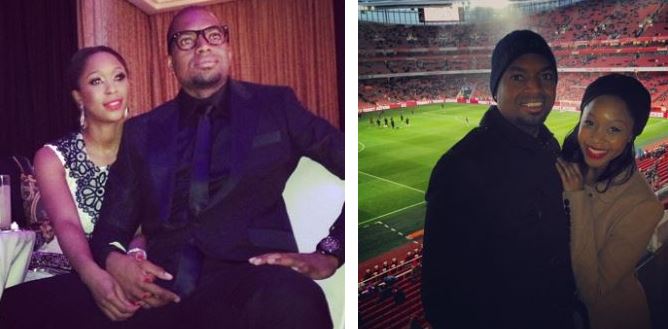 Credit: Instagram/Minnie Dlamini
Eventhough soccer players are known for their bad boy behaviour, Minnie seems like the girl who will be able to handle Itumeleng's behaviour should he decide to dabble his hands in dealings that hold the potential of shaking their relationship.  After all the true testament of a relationship is when the tough gets going and the going gets tough.  So kudos to you Minnie and keep on handling yours.