SABC 3's new talk show Afternoon Express made its debut on the 4th of May. The show, hosted by Bonnie Mbuli, Bonang Matheba and Jeannie D, quickly became a hot top on social media after airing. And we think we know why.
 Besides the gorgeous presenters, we're totally obsessed with the set. We're not the only ones, it seems.
Loving this show so far, the set looks absolutely massive #AfternoonExpress

— #ImSoChase08May (@ClixWell) May 4, 2015
I want to grab a blanket and live on the set. I need it to be my home. #AfternoonExpress

— Sibongile Mafu (@sboshmafu) May 4, 2015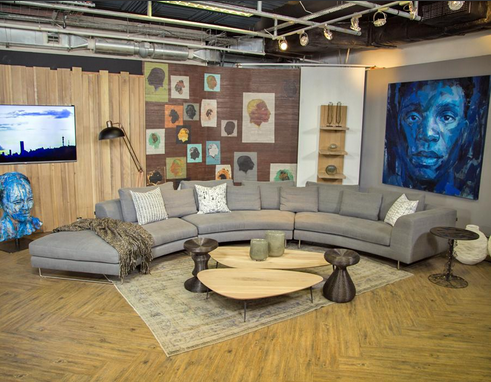 The show kicked off with an interview with Freshly Ground's Zolani Mahola, who dished out on her body transformation. What's her secret? Well, nothing mind-blowing. She said: "Diet, what you put into your body, what you don't put into your body and exercise... It's not a trade secret." She also spoke about her aspirations of being a runner. Seriously!
Speaking of body transformations, we also loved that segment where Jeannie D and those handsome guys showed us some great exercises. We'll definitely add those to our routine. While Jeannie was sweating away, Bonnie was doing her thing in the kitchen. The cooking segment also works because, well, we love food. It seems like Bonnie has a lot of fans.
Bonnie is doing a fantastic job #AfternoonExpress

— Johnny Khalo (@JayKhalo) May 4, 2015
Bonnie is also good at this. #AfternoonExpress

— Sphe HM✨ (@Sphe_HM) May 4, 2015
Bonnie never disappoints - she's fabulous like that!!! #AfternoonExpress

— Lehlohonolo Tau (@Lehlohonolo_Tau) May 4, 2015
While the show was entertaining and quite different from Noeleen, we would have loved to see more interaction between the ladies. It would have been nice to have a segment dedicated to them sharing their views on different topics.
Love it but I need talk at this time. incoko. Water cooler talk. The women interacting with each other more. #AfternoonExpress

— Sibongile Mafu (@sboshmafu) May 4, 2015
Thought it was gonna be a talk show. Kinda disappointed RT @MrMenziN: First thoughts? #AfternoonExpress

— H.E. Lizzy Bear (@Lebo_gang) May 4, 2015
I expected far more talk between the trio. I want to know Bonang/Jeannie/Bonnie's views on various topics. Some laughs #AfternoonExpress

— ANDILE NDLOVU (@Vida15) May 4, 2015
As much as we would have loved to see more 'talk', we understand that the show is something "different". Bonang did warn us, right? She said on 5FM on Saturday: "We want people to get 3Talk out of their minds." 
Although we were promised something "different", we feel like Afternoon Express is an extension of SABC3's breakfast show Expresso.
Well, watched #AfternoonExpress and for me there was really nothing new or wow felt like I was watching Expresso

— Namhla ❤ (@Nana_MJ_) May 4, 2015
Not feeling this #AfternoonExpress show on SABC3. Too much of cross btwn Top Billing, Expresso, Hello Dr, Man Cave &Top Travel.Formatting :(

— Nomfundo Mkhize (@NomMkhize1) May 4, 2015
Is it me or is #afternoonExpress the afternoon version of #Expresso?

— Modikwa (@ModikwaMakgoba) May 4, 2015
#AfternoonExpress and #Expresso not seeing much of a difference format wise. That after 5 minutes of watching

— #NoToXenophobia (@OliverWitbooi) May 4, 2015
We have nothing against the show or the presenters - they are great at what they do - it's just that we were expecting something else. But it's still early days, maybe our minds will be blown away soon?