Ok, we know we might be jumping the gun here but pictures speak a thousand words and boy is this picture speaking to us!
There have been a number of rumours that Meek Mill and Nicki Minaj have been dating for a while now, but the two neither confirmed nor denied these rumours. However, the two today might've just given up hiding their oh-so-obvious secret. Nicki Minaj has posted this image of Meek Mill giving her a big kiss on the cheek whilst having his arms wrapped tight around her.
The pint-sized Nicki is seen blushing and looking straight into the camera as though she is about to say:
"Yeah, this is my new boo."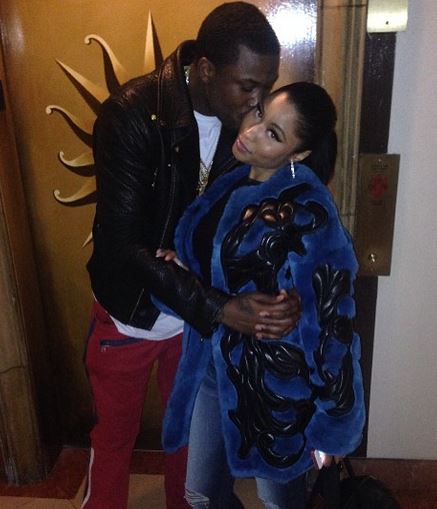 Nicki recently broke it off with her long-time boyfriend Safaree "SB" Samuels. The two ex-lovers recently had a public spat on Twitter which even involved Nicki's mother.
Nicki has previously denied any romantic links to Meek Mill, during a radio station interview with Angie Martinez Nicki brushed off her relationship links to Meek Mill as nothing but a friendship.
"We're friends. He's dope. Shout out to him." Nicki said.
By the looks of this picture, they seem to be more than just friends to us.
In our personal opinion, we think Queen-Barbz is doing this for show and still has strong feelings for Safaree. Remember how she was in near tears when she spoke of her relationship with SB on the Angie Martinez show?