Uh-oh! Just this week Oskido and Lip Sync Battle presenter D'banj, were all smiles as they prepared to shoot a new music video together.
However, things went left real quick a couple of days later when Oskido allegedly shared an Instagram post, dropping F-bombs targeted at D'banj. The post has since been deleted, but thankfully his followers were quick enough to take a screenshot of the post. 
So what exactly happened?
Well, it seems like Oskido was not impressed with the way the Nigerian singer has treated their professional relationship.
In the post, Oskido makes it clear that he does not appreciate D'banj's disrespect towards him. Oskido mentions that D'banj has now stood him up twice and has done it before with other artists like Mafikizolo.
Here's the rest of the post.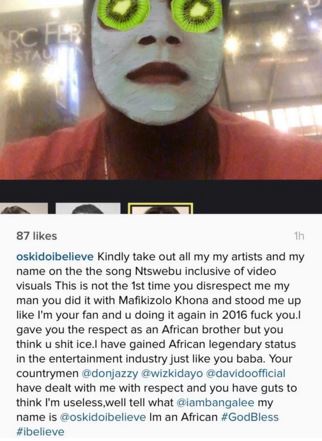 Twitterville has been buzzing since the post made its rounds on social media.
UPDATE:
However, Oskido cleared the confusion about the whole commotion between him and D'banj on his Facebook page.
Oskido explained that someone had been tampering with his cellphone by posting the above story.
Oskido assured his fans that all is well between him and D'banj and that they shall continue to release their collaboration track.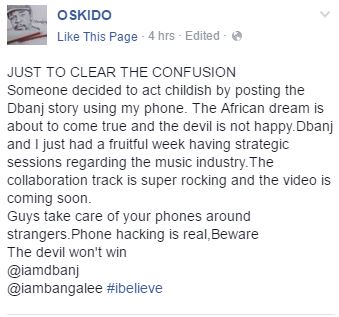 Image Credit: Instagram.