Is it us, or are most of our female celebrities cashing in on these presenter gigs? First Minnie Dlamini bagged the Metro FM Awards job for this year and then we found out that Boity has just been listed as the newest Club 808 presenter. Now, it's time to celebrate with Pabi Moloi who has just joined forces Trace Sports Stars.
What would a party be without a bubbly presenter, destined to turn up your Friday fun? Quite frankly, I think that there is nobody better than Power FM's Pabi Moloi to take your viewing experience to new heights as Trace Sports Stars presenter.  Not to mention that we all get to enjoy a month that celebrates 'International Women's Day'  by seeing the vivacious Pabi Moloi every Friday night - she will definitely bring out the girl power in us all (Yes, even some of you fellas).
Manly sports jocks beware, because throughout the course of "Women's Month", TRACE Sports Stars will air action-packed shows dedicated to the skills and successes of the greatest female sports stars and celebrities on the planet. Effortlessly expressing her magnetic charm and holding her own in front of the unforgiving camera lens, seasoned TV professional Pabi Moloi has been described by Trace as " our ideal 'Girl Power' TRACE Sports Star presenter in March."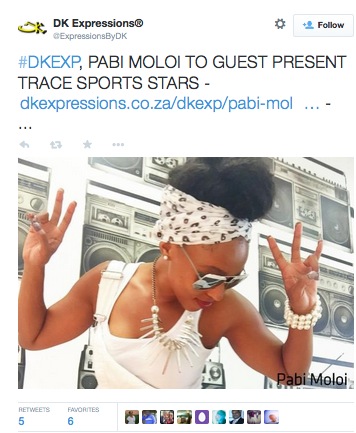 Pabi is one of the sharpest, smartest and most in-demand presenters around today and when Trace TV asked her take on "Women's Month", she eagerly responded: "In the sporting world, it's so good to have role models of all different shapes and sizes with different strengths and abilities. In the television and radio world that I come from, we often see the same thing so as soon as we put more women in the forefront, it will be immensely inspiring for other women to break out of their shells and succeed."  
Don't miss out on Pabi's Girl Power this March on Trace.